February 12, 2019


February 12, 2019 UPDATE ON REV. JOHN ROCCO CARLO
We received a letter from John that his telephone number on the back of the membership cards is no longer in use. If you have to contact John for any help, please call him on his cell at 347-613-0390

January 23, 2019 FORMER TRANSIT P.O. RICHARD DI GUGLIELMO RELEASED FROM PRISON
From Lou Hollander as received from Charlie Moran physedcop@yahoo.com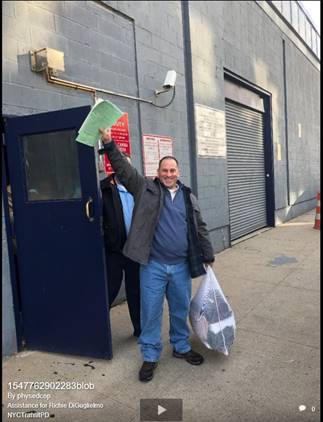 Above is the picture of Richie "D" exiting prison after serving 20 years on a politically motivated wrongful conviction. Many people in this group have expressed an interest in helping Richie successfully transition back into the outside world. Let's help our Transit Brother get back on his feet again. This could have been anyone whoever wore a shield and rode NB/SB. If you would like to help Richie, please make out a check to Richard DiGuglielmo and mail it to:
Richard DiGuglielmo
P.O. Box 1270
Yorktown Heights, NY 10598
100% of all funds collected will go to helping Rich
P.O. Box 1270
Yorktown Heights, NY 10598
100% of all funds collected will go to helping Richard

January 8, 2019 ANNUAL DUES MAILING WENT OUT
With many thanks to the several members who participated in our annual dues mailing, the envelopes went out last night. Those who have'nt paid will receive President Lanning and VP Valentino's letter along with the dues remit envelope. Paid members will receive the letter along with the membership cards and decals. If you receive a dues envelope after sending in the dues, please disregard and thank you for your membership.
If you should receive a damaged envelope due to Post Office machine handling or an empty envelope or missing pieces, please contact me at 516-526-7968 or alomanto@optonline.net to let me know and replacements will be sent out.
We do ask that you please send in the dues as soon as possible after receiving the notice and not put it aside until a later date. That way, we do not have to go through the process of notifying those members later on in the year. If you are able to send in a donation, we would appreciate it very much. In these current years, many regular members are becoming Lifetime Members after they reached 75 years of age and have paid for the 3 years prior to reaching 75. This is having the effect of less dues to sustain the financial costs of running the association. As in the past, a challenge coin will be sent for donations of $20 or more unless you ask us not to send a coin. Many members have been receiving the coins over the past years and have already accumulated a stockpile.

November 29, 2018 2019 METS - YANKEES GAME TICKETS GOING ON SALE
From Thomas Greer hpb2270@optonline.net
Once again the organization will be sponsoring the annual meeting between the Mets and the Yankees at Citi field. Tickets this year are for
July 2, 2019. 7:10 pm game. No increase in price from last year. $113 in the first base side baseline box.

Anyone interested can mail me a check to 508 Harbor Rd Cold Spring Harbor NY 11724. This includes a pregame on field photo. Call me for any info you may need. 631-902-8911. Or 516-419-6146.
Thank you,
Tom

Get those orders in fast. Last year all tickets were sold out and everyone who went said they had a great time. We thank Tom for all his hard work in acquiring those tickets.

November 16, 2018 ANOTHER SUCCESSFUL NEW YORK REUNION
Through the tireless work of Marilyn Scahill and Paul Murphy, another NY Reunion was an outstanding success and we congratulate them.
Here are a few photos taken at the affair: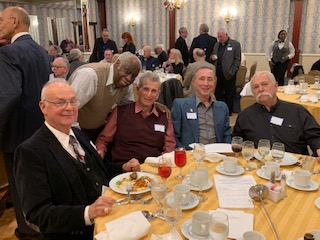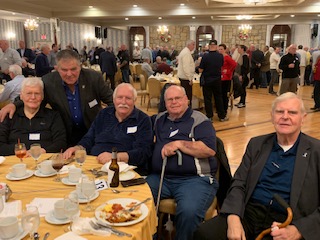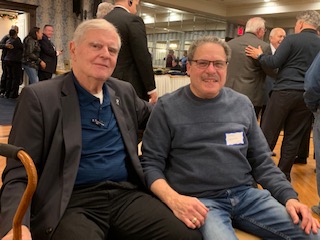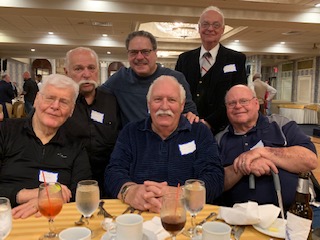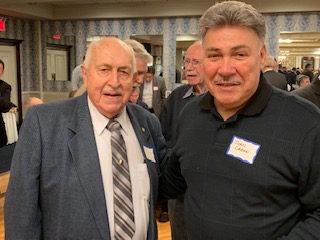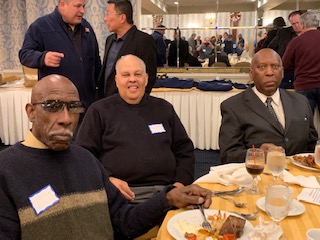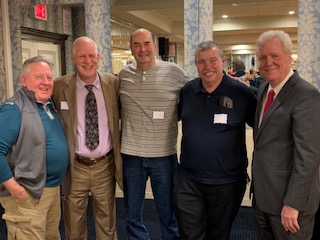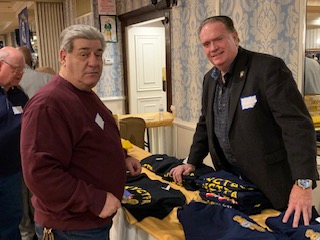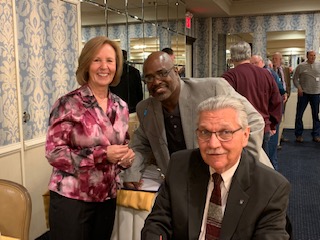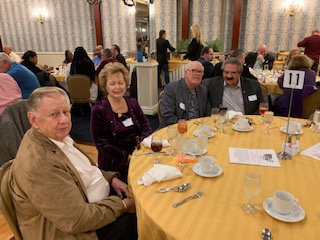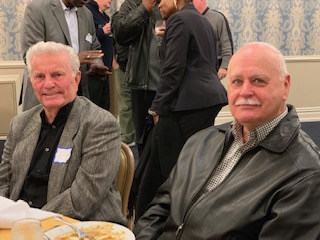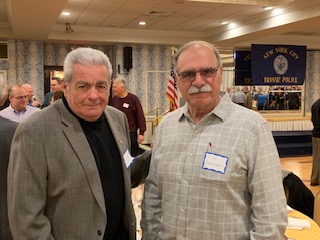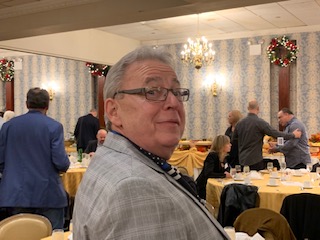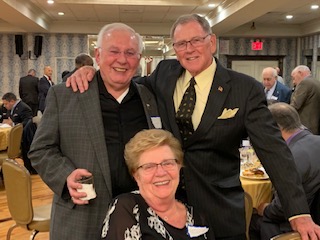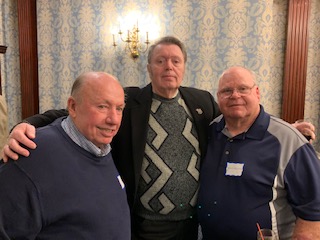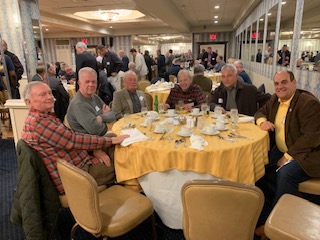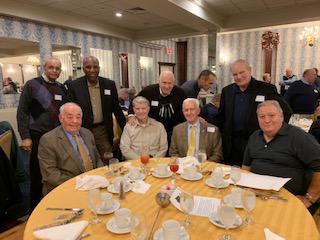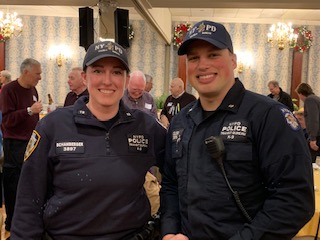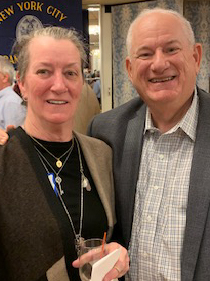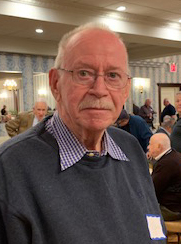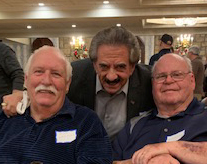 November 9, 2018 REPORT OF NOVEMBER MEMBERSHIP MEETING
From Recording Secretary Bob Forrester:

The first meeting since Ed Russo's passing was ably conducted by our new President, Mike Lanning. The meeting was called to order and Mike led the pledge of Allegiance. Tony Lomanto read the names of those who passed away since our last meeting in October and reported that since January 1st of this year, 56 fellow officers that we know of, passed away. There was a moment of silence for them, their families, those on the Sick List and all those in Law Enforcement and our Armed Forces serving in harm's way.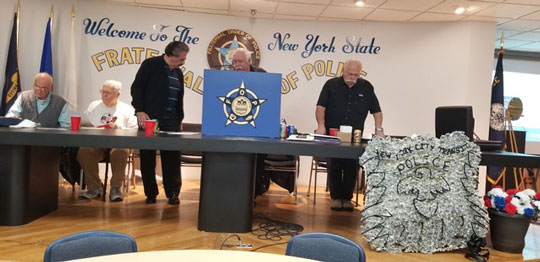 The floral display is the one from Ed Russo's wake
We had a guest speaker, Bob Vessichelli from PSE&G, the utility service on Long Island, who gave a video and talk on the many possibilities that exist out there for scamming the public, and mostly senior citizens. Bob is a retired Suffolk County Detective and is in the security section of the utility company that handles the many phone scams their customers receive. Many members present have experienced the many phone call scams alleged to be from the IRS, Microsoft, solar panel companies, and even those alleging pleas for money from "grandchildren" supposedly in jail or other reasons asking for cash. These phone requests usually ask for the person to purchase some type of gift card at a local CVS or Walgreen's and have the monies transferred to a location specified by the scammers. The bottom line is to be aware and be alert to these phony calls.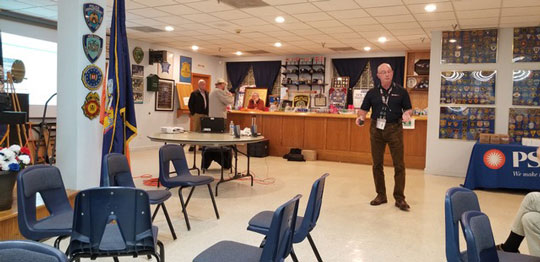 Our guest speaker Photos courtesy of Associate Member Eric Wollman
Treasurer Tony Lomanto spoke of the scheduled meetings for 2019 that will appear in the next issue of "Beyond the Line." Please note that the May meeting which is usually held at Antuns because the NYS FOP has to ready the hall for the Anual Police Memorial, had to be changed. Antuns would not have a date available until mid May and considering it was too close to the June meeting, it was decided by the board that the May 2019 meeting will be held at Verdi's Caterers in Westbury, Long Island. As a change, that meeting will be a luncheon to start at 1:30 PM. By a show of hands at the meeting, many members do favor an afternoon luncheon rather than the normal evening meetings. As we get older (at least some of us :-) ) night vision is decreasing, making night driving more difficult and keeping many members home, rather than attending the meetings.
Financially we are doing well but membership has dropped due to deaths and no new members joining, especialy those from the very last Transit PD class in the '90s. We don't want to see our "Transit Family" diminish due to lack of concern.
1st VP Bob Valentino spoke of having members who come to the meetings to try and get others to also attend, either by driving them or contacting them. He also mentioned that we will be bringing membership applications to the NY Reunion on the 13th to try and get more fellow officers to join. When a benefits question raised by member Steve O'Rourke was brought up about hospital stay charges with HIP and Medicare, Bob and Deo Fasolino stated that HIP is primary if covered by that plan and Medicare is primary with others.
Legislative Director Tony Piazza spoke of the election results from the previous day. The NYS Senate and House are now controlled by the Democrats and our strategy for getting the VSF has to be changed to now appealing to the ruling party for any passage of the bills. One of our staunch supporters, Sen. Marty Golden of Brooklyn and Chairman of the Civil Service and Pensions Committee, is still in a deadlock with his opponent. Final mail in ballots have not been completed and he is still holding out. We wish him well in the election.
Barbara Hassler, widow of the late 2nd VP Harry Hassler, read a story that Harry had written a few years ago. It has to do with the many passes of "The Heaven Bound Railroad" he had given out over the past several years. The article will appear in this next issue of our newsletter coming out soon.
Henry Melchiona thanked the Retirees Association and those who recently attended the memorial service for his brother Mike when a plaque was placed at the 50th Street station where Mike was killed in the line of duty.
Vinnie Servedio spoke of the next "ROMEO & JULIET" Valentine luncheon scheduled for a day in February, 2019. Details will be posted when they become final.
Tom Greer mentioned he is working on the Mets baseball game tickets for 2019 and this will be posted when finalized.
President Lanning spoke of the upcoming Christmas & Holiday Party on December 5th at Antuns. We welcome our members, families and friends. The cost remains the same this year - $25 for members and $35 for non-members.
The 50/50 raffle was held and we again thank John Reeves, for the many gifts has has given us.
The meeting was then adjourned.

October 24, 2018 REPORTING THE DEATH OF ASSOCIATION PRESIDENT EDDIE RUSSO
We regret to inform our members and friends of the passing of Retirees Association President Edward "Edddie" Russo on Friday, October 19th. Full details are on the Obituary Page
The Association wishes to take this opportunity to thank our member, Ret. P.O. Tom Golden, as the funeral director at Gleason Funeral Home in Bayside NY, for the outstanding services rendered for the Edward Russo funeral. Tom was extremely helpful in obtaining the special flower arrangement for the Association. We also wish to thank all those who attended the wake and funeral services.
The Executive Board will now consist of the following officers: Mike Lanning as President; Bob Valentino as 1st VP; Ron DiMaio as 2nd VP; John Giangrasso as Executive Sec'ty; Bob Forrester as Recording Sec'ty' Greg Stripp as Financial Sec'ty; Tony Lomanto as Treasurer; and Frank Crisa as Editor.
Here are a few photos taken at the funeral: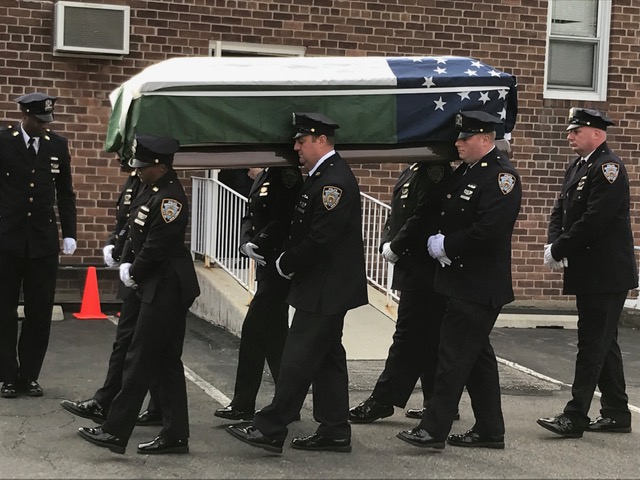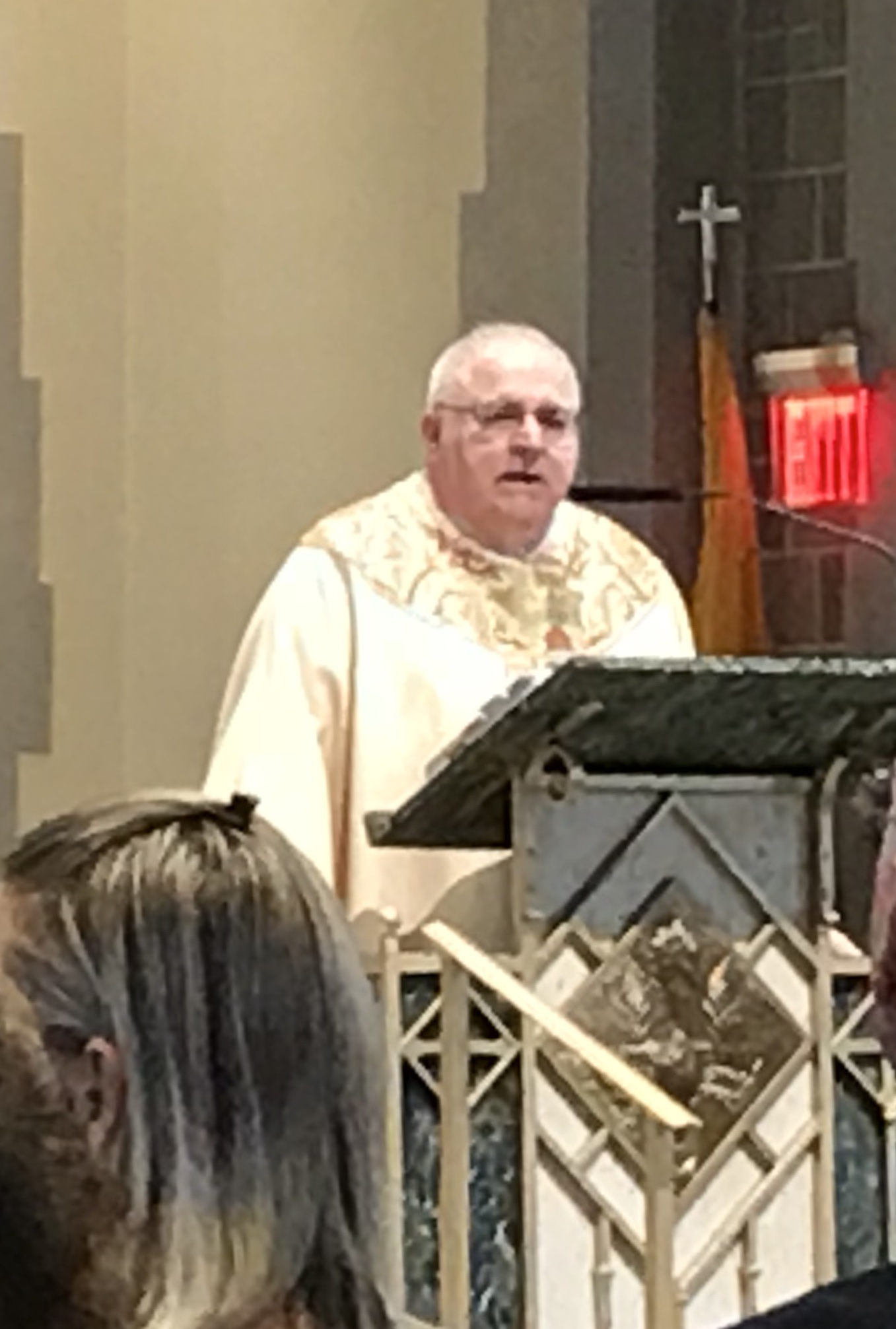 NYPD Honor Guard Association Chaplain Msgr. Romano at the Funeral Mass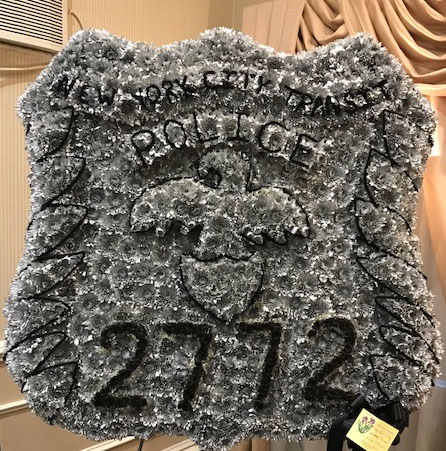 October 9, 2018 REPORT OF OCTOBER MEMBERSHIP MEETING
Our thanks to Executive Secty Ron DiMaio for taking the minutes of this meeting.
MINUTES OF RETIREES MEETING 10/4/18 AT ANTUNS
• 7:40 PM Meeting called to order by 2nd Vice Pres. Bobby Valentino who led the Pledge of Allegiance. !st VP Mike Lanning and Treasurer Tony Lomanto were excused. Bob mentioned those members who passed away since our last meeting: Det. Sgt. Lou Cosentino, Chief John Pritchard, and others. There was a good turnout for the street naming for TPO Michael Melchiona. His brother Henry addressed the members present.
• Charlie Moran spoke about Richie DeGuglielmo being granted parole. He thanked our Association and other organizations for our support. Date of release is January 7, 2019.
• Ron DiMaio spoke about HR6105 that would amend the LEOSA (HR218) that would afford needed improvement as: 1. Being able to use high capacity magazines. 2. Being allowed to carry hand guns in schools. 3. Being allowed to carry on AMTRACK Trains. 4. Being allowed to carry in National Parks. 5. Standardized course of fire etc. He urged members to contact their Congressman to vote in favor of this bill.
• Bobby Valentino spoke about the Bowling League dinner dance and the fellowship that exists there.
• Tony Piazza spoke about the VSF and the lack of support from line organizations. Our bill failed this year with the excuse that we need a home rule message. This is not true as it was a collective bargaining agreement. A new bill will be brought out next year.
• Bobby Valentino mentioned that Tuesday, November 14th is the TP Reunion at Antuns, 4:00 to 8:00 PM, $60.00 per ticket.
• Tom Greer spoke about the Mets and Yankee Game on July 2, 2019. He had some pins, shirts and jackets for sale.
• 50/50 drawing was held. John Reeves donated many gifts that were raffled off.
• Next meeting will be Wednesday, November 7th at the FOP in Hicksville
• 8:40 PM the meeting was adjourned.
Respectfully submitted,
Executive Secretary
Vincent R. Di Maio

September 28, 2018 PENSION C.O.L.A. INCREASE NOTICES SENT OUT
Normally, we would have received these notices sometime in August, but I received my notice from NYCERS yesterday, informing me that the COLA increase, starting with the September deposit, will be a whopping 1.2% on the maximum $18,000, resulting in another $18.00 a month. It should show up in the deposit at the end of September. That should be enough to fill your gas tank halfway once a month. - Tony

September 18, 2018 UPDATE ON PROBLEMS WITH ID CARD RENEWALS
From the Retired Sergeants Association regarding the current problems with (all) Transit retirees needing their ID card renewed. It also applies to retirees trying to contact the Unit by phone and attempting to set up an appointment.
Dear RSA Member,
This message is for those RSA members who have a retired NYC Transit or Housing ID card with expiration dates that are due to expire soon. The NYPD Transit Bureau Personnel Section maintains the Transit and Housing pre-merger retiree ID card database and they are responsible to print the cards upon expiration. At this time, the Transit Personnel Section is having issues with the ID card software and printer. They have not advised a time frame in regards to a resolution of this issue. We are requesting that at this time that members DO NOT send any expiring Transit or Housing ID cards to the RSA ID Card Desk until further notice.
We apologize for this inconvenience and are working on a quick resolution to this issue.
Fraternally,
Patsy
Retired Sergeants Association
www.rsanypd.org

September 13, 2018 WORLD TRADE CENTER NOTICE OF PARTICIPATION HAS BEEN EXTENDED
From the NYPD PBA and SBA
The deadline for submissions for the World Trade Center Notice of Participation has been extended until September 11, 2022.
It was reported recently that the submission deadline was September 11, 2018, but that has changed.
Although the new deadline is four years away, we urge all active, retired and vested members to submit their Notice of Participation as soon as possible.
All relevant forms can be found on the NYPD Police Pension Fund website.
Please don't delay in taking immediate action on this most serious matter.

September 11, 2018 STREET NAMING IN MEMORY OF PTL. MICHAEL MELCHIONA UPDATE
From Lou Hollander, Sal Napolitano & Tony Lomanto
The Memorial Ceremony for Ptl. Mike Melchiona was a well attended event with Ret. P.O. Henry Melchiona and his family, NYPD Chief of the Department Terence Monahan, Admin. Chief Bob Ganley, TA President Andy Byford, District 1 CO Capt. O'Sullivan, former Transit Bureau Chief Joe Fox, PBA President Pat Lynch, a contingent of Officers from Suffolk County PD, and other NYPD uniformed ranks and the NYPD COlor Guard and Band contingents.
From Sal Napolitano::
Today was the long overdue recognition for Mike Melchiona who was killed in the line of duty on the 50th St & Broadway IRT subway station on February 28, 1970. A brass plaque will be mounted on that station in Mike's memory.

I was speaking with Mike's brother, Henry, this evening who told me that he and his family were overwhelmed by this tribute and the number of retirees, active police officers, Chiefs, former Transit Bureau Chief Joe Fox, and other ranking officers, PBA Pat Lynch, Deputy Commissioner Bob Ganley, and the MTA President were in attendance. Also, in attendance were Pipes & Drums. K-9 Units and police officers from various police departments from the NY & NJ area. There were many Suffolk County Police officers including Henry's son and nephew who are both detectives with the SCPD. After the dedication the PBA provided a luncheon in District 1 for all the attendees and guests. This was a very proud moment for the entire Melchiona family.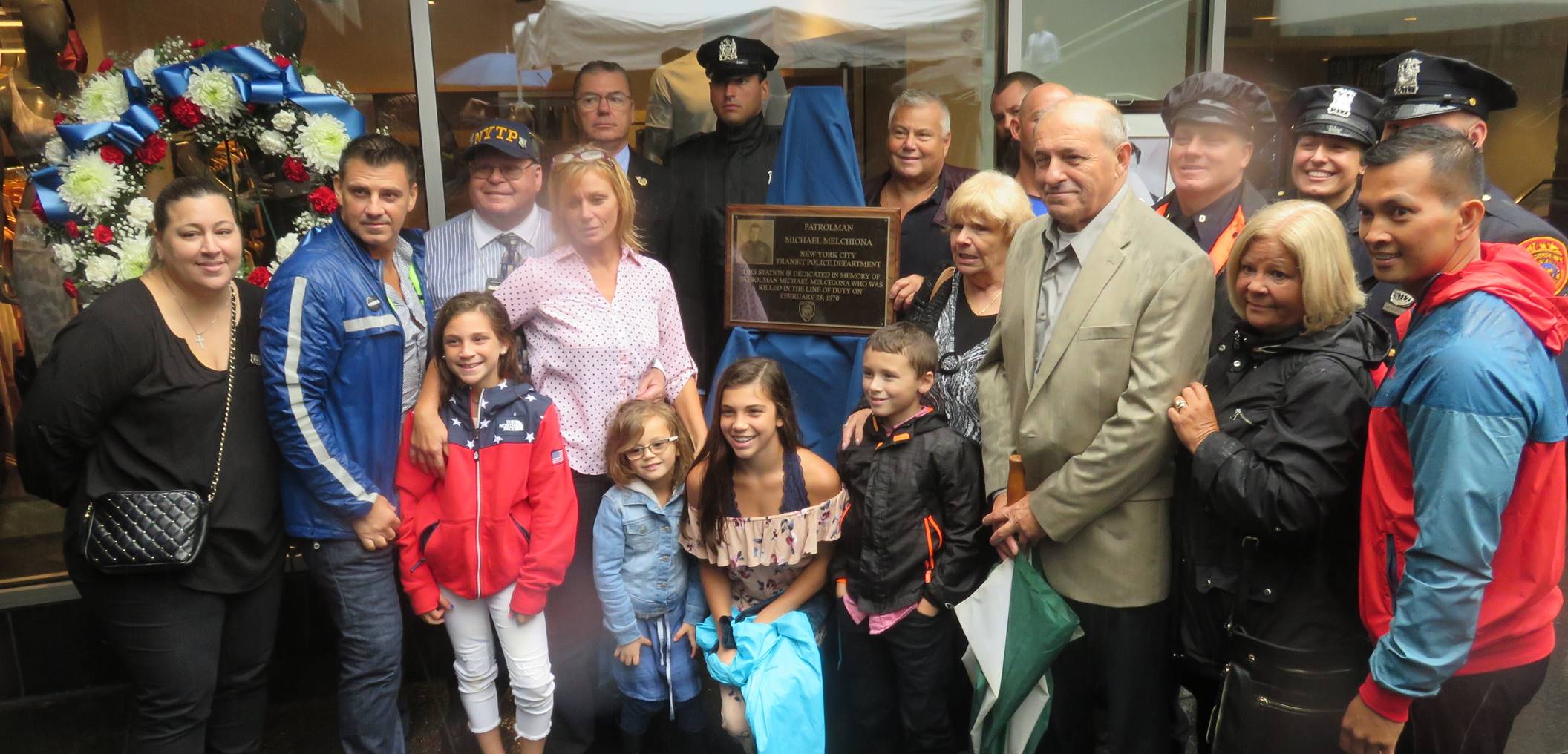 The Melchiona Family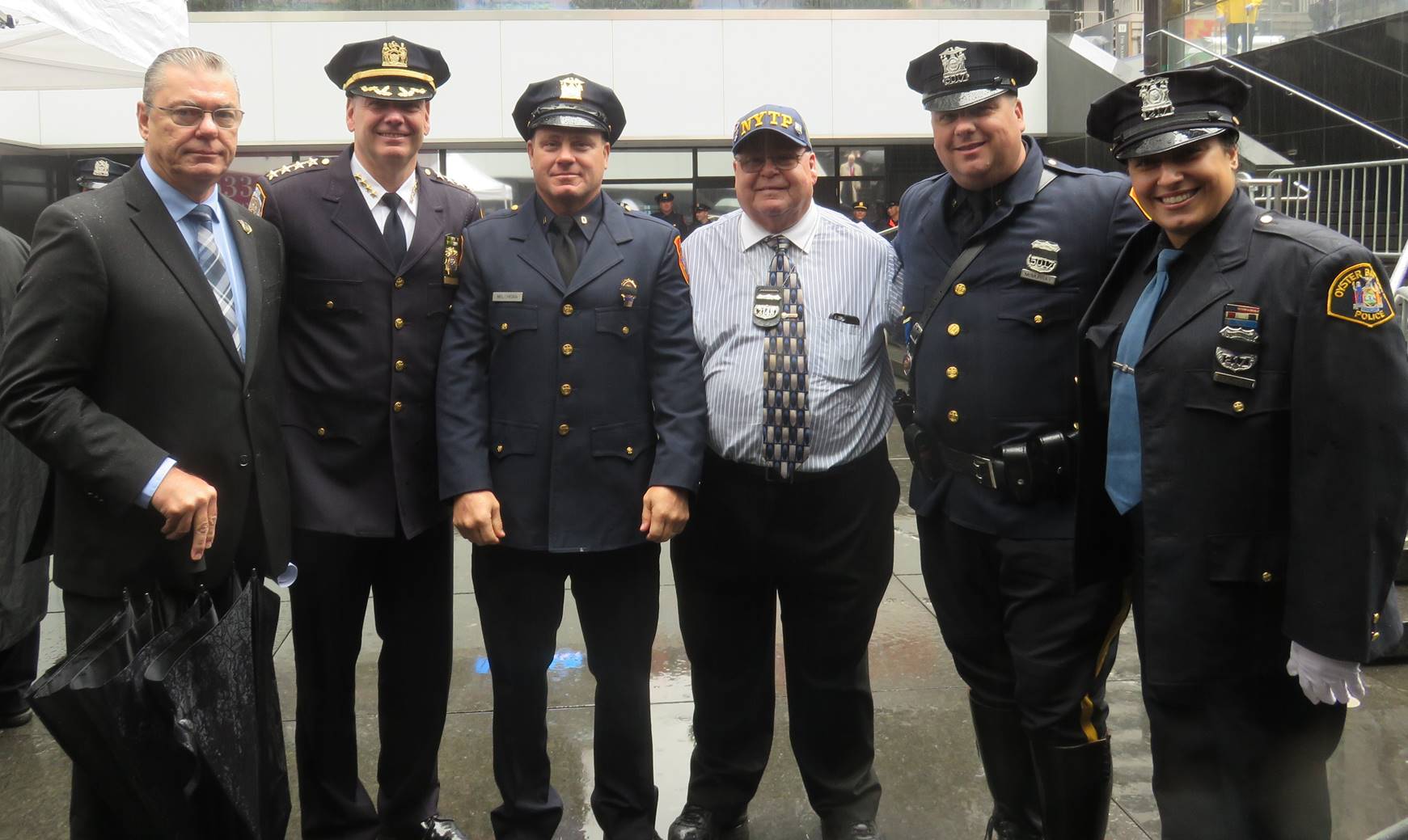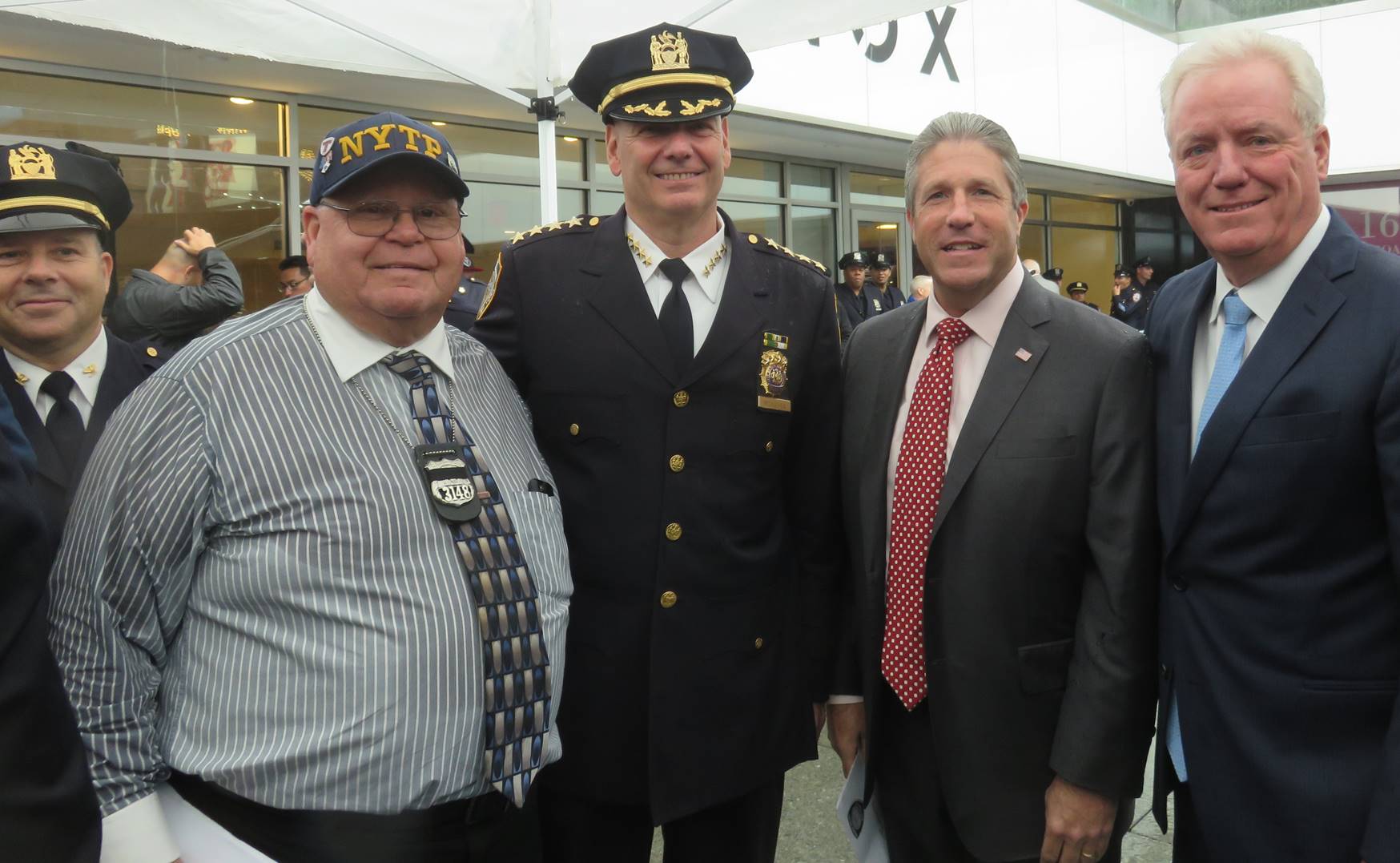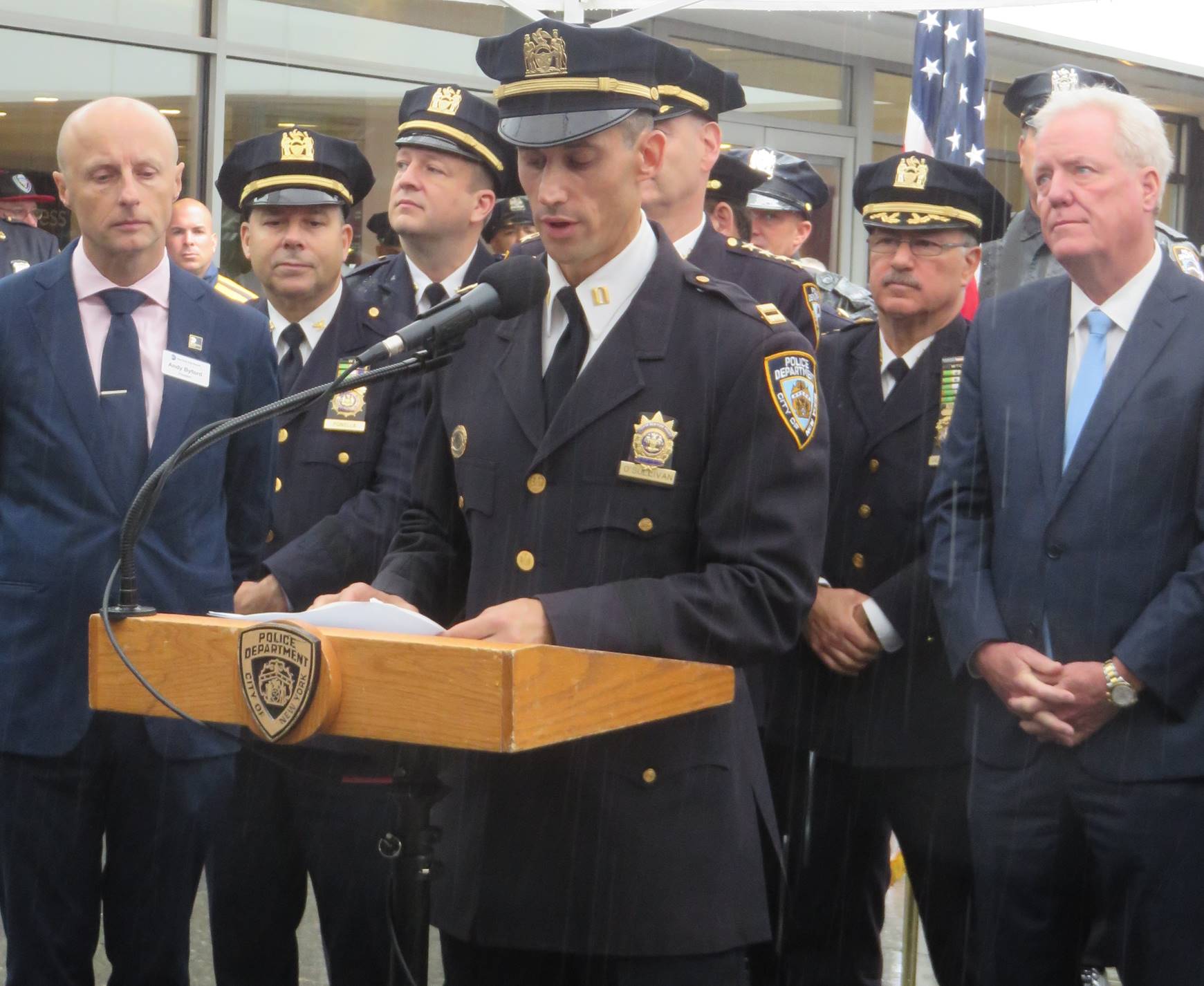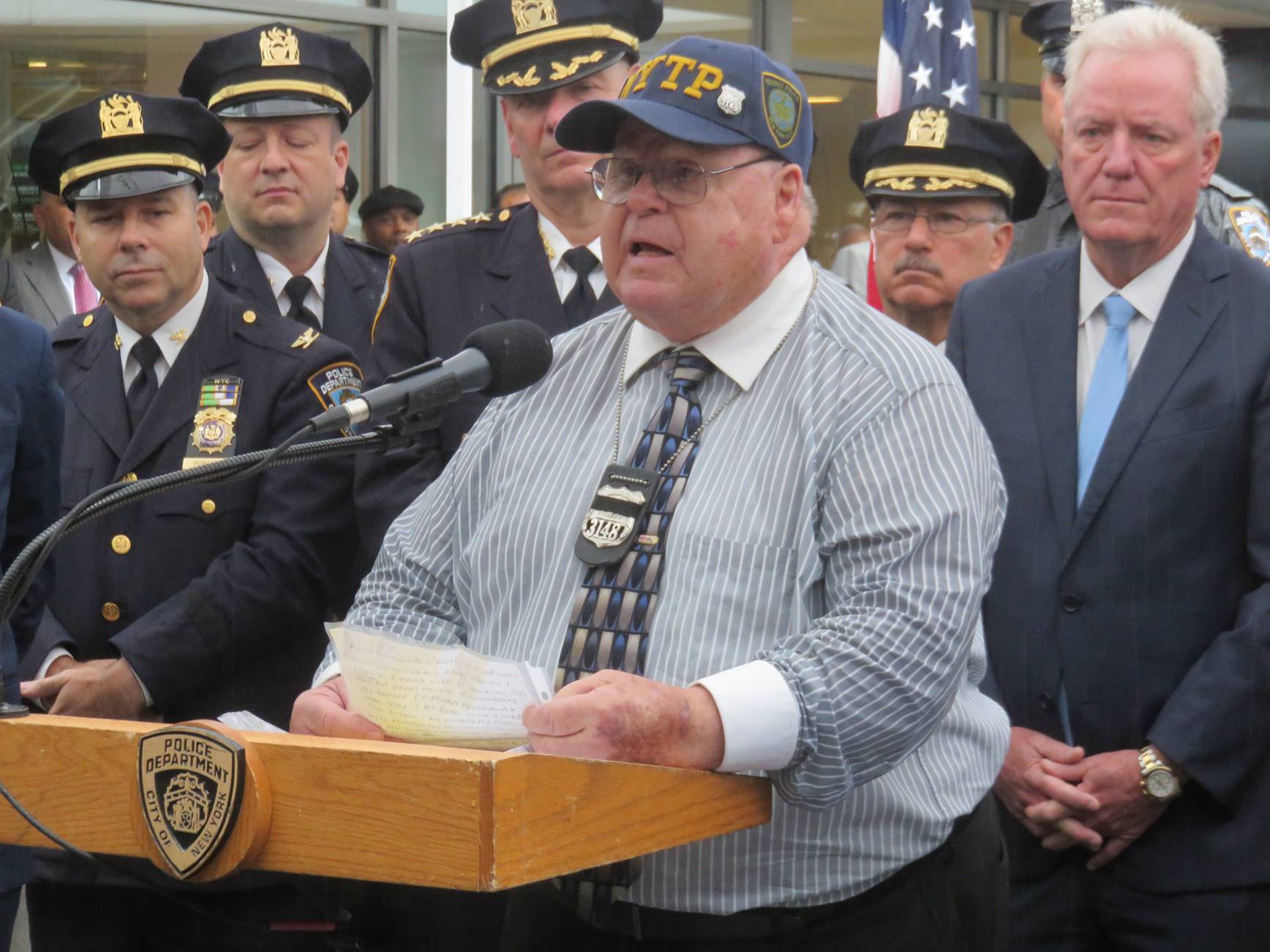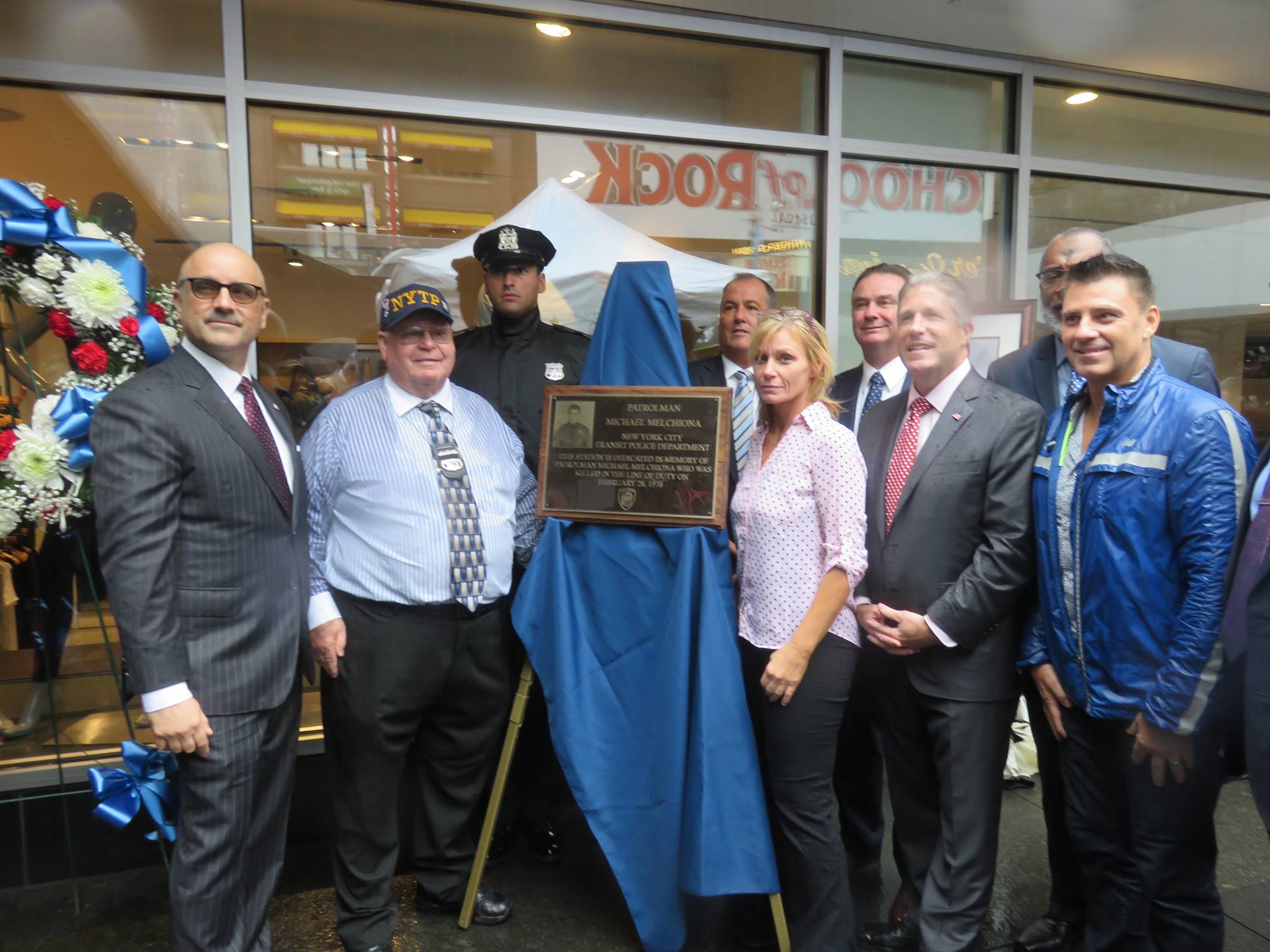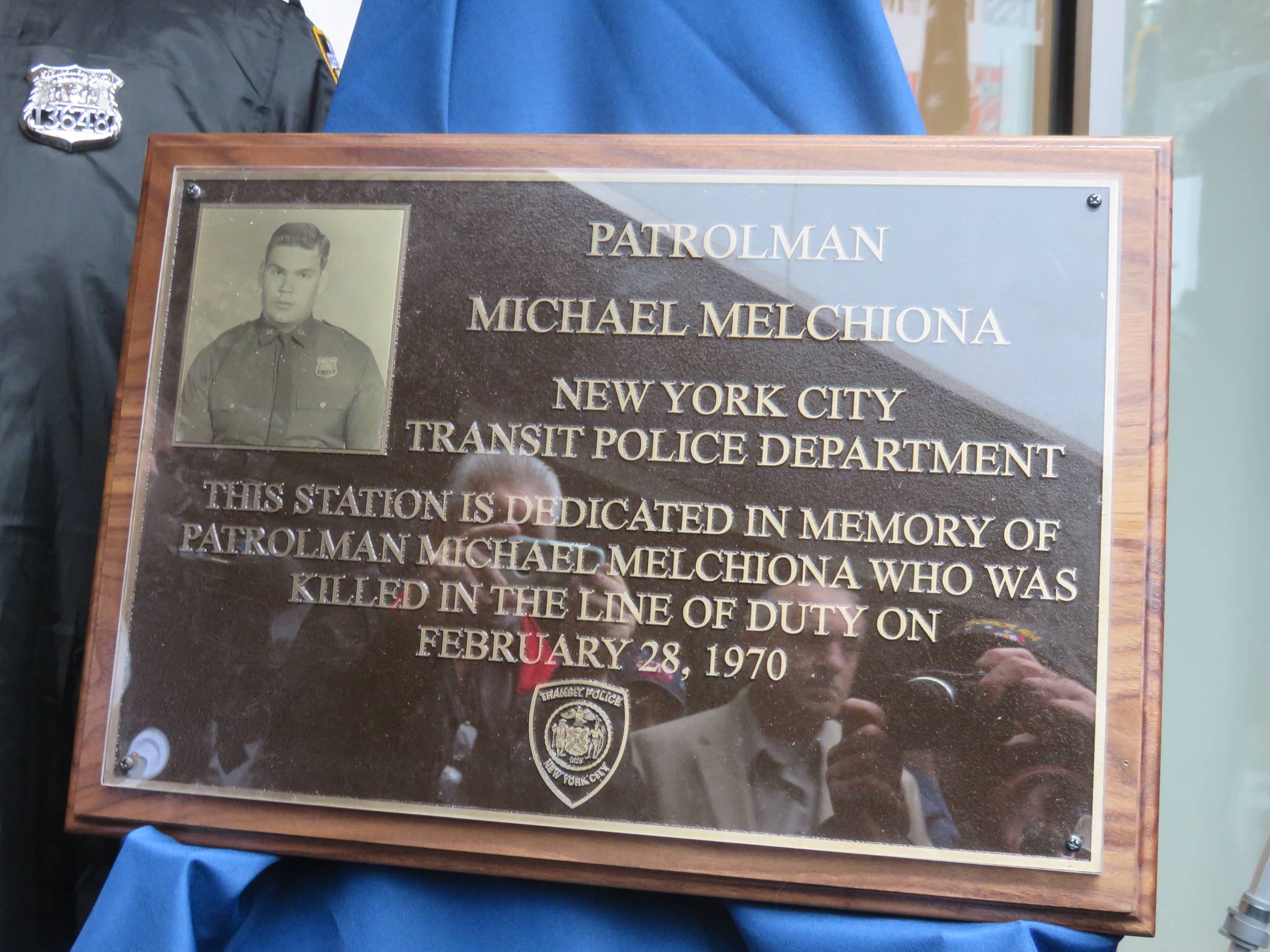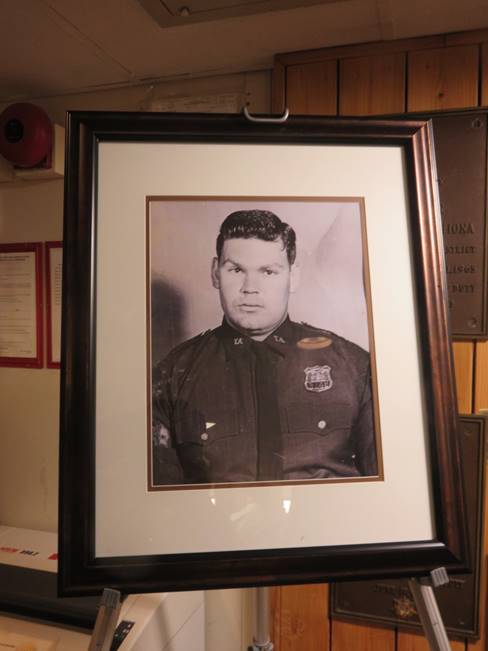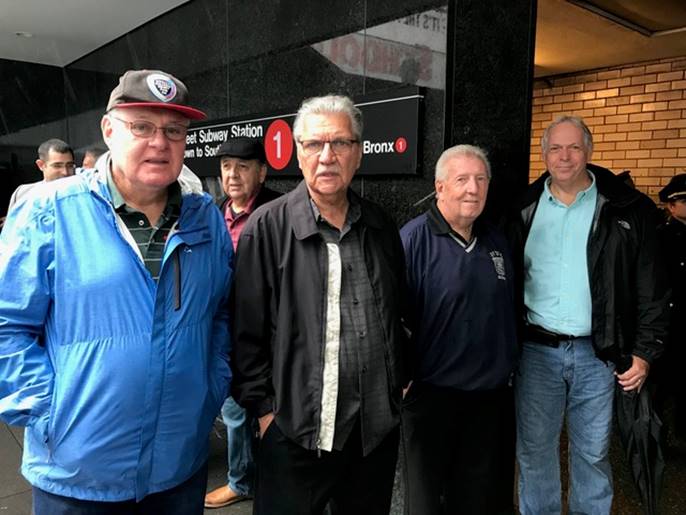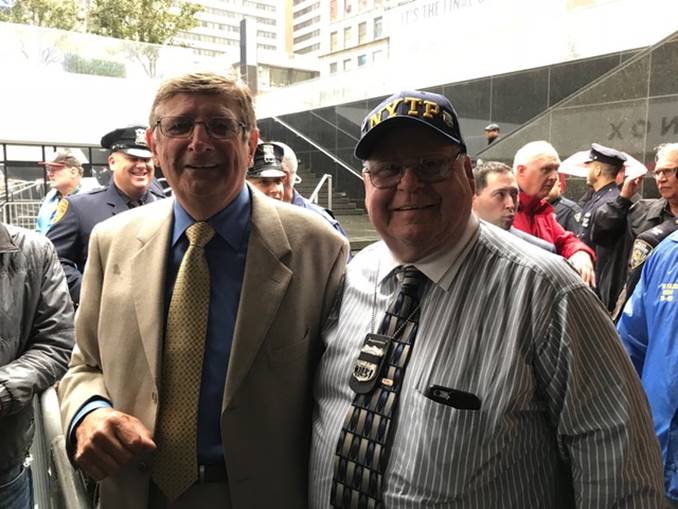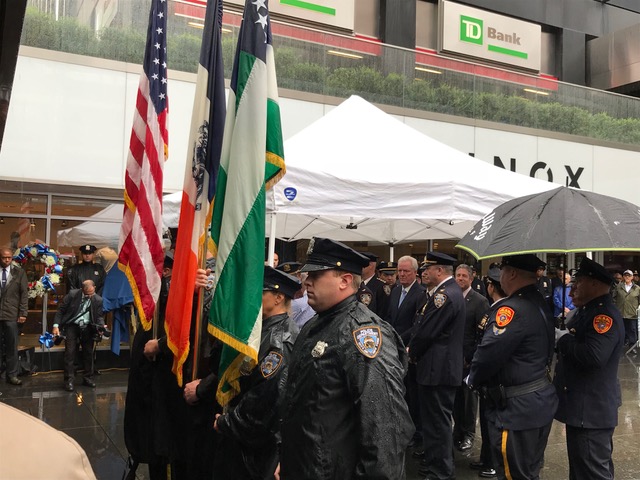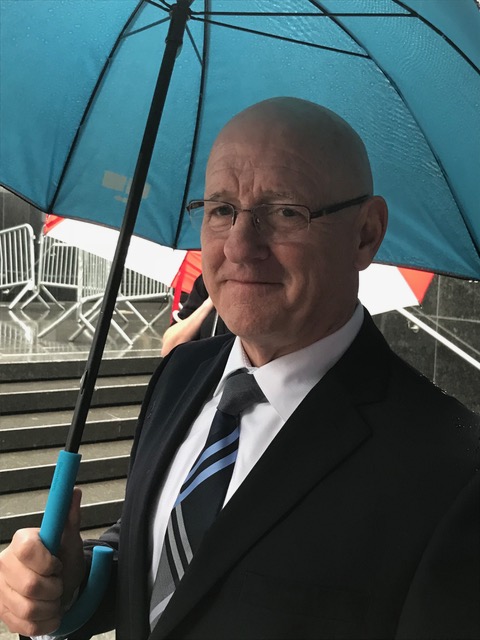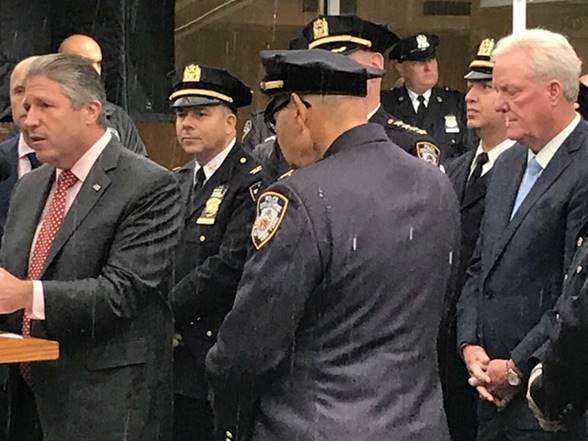 September 11, 2018 REPORT OF SEPTEMBER MEMBERSHIP MEETING
From 2nd VP & Recording secretary Bob Valentino
MINUTES of the RETIREE'S MEETING on Wednesday 09/05/2018
With President Ed Russo in the hospital for medical issues, 1st Vice President Mike Lanning called the meeting to order at 7:20pm with the Pledge of Allegiance. Treasurer Tony Lomanto gave the membership an update regarding the illness of our President Ed Russo. Tony mentioned that Ed has multiple issues including a knee replacement and asked everyone to pray for Ed's full recovery. Tony also named the members who recently passed away. The meeting was suspended for the refreshments being served.
Mike Lanning announced that President Ed Russo has appointed Recording Secretary Bob Valentino to 2nd Vice President of the association and asked if any members present would like to assume the office of Recording Secretary. There were no volunteers for that position. Bob will handle both positions for the time being.
Member Hank Melchiona spoke about his brother, Transit Police Officer Michael Melchiona, who was killed in the line of duty on February 28, 1970 and stated that the subway station at 50th Street and Broadway will be named in Michael's honor. Hank asked for members to attend the dedication on Monday September 10, 2018 at 11:00 a.m. Hank also mentioned the late great Pat Townsend and how Pat was always there for the family especially at Christmas time. Mike Lanning mentioned that the School Red Light Cameras are back on throughout the city so if anybody is going to the dedication to be aware of the cameras.
VSF Committee Chairman Tony Piazza, spoke about the VSF Bill indicating that it was dropped in Albany because of a home rule message but stated that member Floyd Holloway will assist him in submitting a new bill.
Our Association Surgeon, Gerald Ente (88 years young), advised the membership not to believe medical advice on social media. He mentioned that coffee (caffeine) in moderation is good for your heart. He also stated that lentil soup and lentils in general helps to prevent diabetes. He talked about the Measles epidemic in Europe and highly recommended that all children get vaccinated. .
Member Joe McGarry, speaking on behalf of the FOP, notified the membership of the Pig Roast and Cigar Day on Saturday September 8th at the Hicksville NYS FOP lodge.
The 50/50 raffle was conducted by Vice President Mike Lanning & Treasurer Tony Lomanto. There were five $20.00 cash prizes with 12 additional prizes supplied by a very generous John Reeves.
The meeting was adjourned at 8:40 P.M.
Submitted by Recording Secretary Bob Valentino
At the next meeting in October, if anyone is interested in the office of Recording Secretary, please announce your intention then.

August 20, 2018 REQUEST FOR INFORMATION
From Lou Hollander after receiving the following email from Deborah Pfeiffer, daughter of the late Ret. P.O. Robert Pfeiffer
Dear Lou and John (Giangrasso):
Thank you for that lovely message about my Dad...Lifetime member Ret. P.O. Robert Pfeiffer, who passed away on August 8th.
I wonder if you might be able to help my family out. There was a retired Transit Officer at my Dad's funeral this past Monday (Aug. 13th) at Our Lady of Lourdes Church in West Islip. He spoke with my Mom and one of my sisters. He was very nice and talked very fondly about my Dad.
When the procession was leaving the church and going to LI National Cemetery at Pinelawn, this gentleman stood at the street with his hand on his heart...honoring my Dad. My Mom and all of us 'kids' would very much like to contact this gentleman, but we did not hear his name. Is there any way that you might be able to post a note on Beyond the Line asking him to contact me at 631-804-8334 or by email at debspf@gmail.com.
Thank you so much,
Warm Regards
Deborah Pfeiffer
Proud daughter of retired NYC Transit Officer Robert Pfeiffer
If you are the retiree who attended the funeral and spoke to Marlene Pfeiffer, please contact their daughter Deborah at the above number.

August 10, 2019 BOB VALENTINO APPOINTED ASSOCIATION 2ND VICE PRESIDENT
President Ed Russo has appointed former Recording Secretary Bob Valentino to the position of 2nd Vice President, filling in the office formerly held by the late Harry Hassler.

June 28, 2018 KILLER OF SID THOMPSON GRANTED PAROLE AFTER 44 YEARS IN STATE PRISON
Robert Hayes was granted release on June 12th. He was convicted in 1974 of shooting and killing NYPD Transit Officer Sidney Thompson in 1973.

A convicted cop killer who has spent the past 44 years in prison has been granted parole, state prisons officials said.
Robert Hayes, 69, was granted release on June 12 by the Board of Parole. Hayes was convicted in 1974 of shooting and killing transit cop Sidney Thompson in 1973.
Thompson was trying to arrest a friend of Hayes for jumping a turnstile. Both Hayes and his friend were members of the Black Liberation Army.
Hayes' impending discharge, which could come as soon as Sunday, follows the release in April of another convicted cop killer, Herman Bell, who was convicted in the 1971 shooting deaths of NYPD officers Waverly Jones and Joseph Piagentini.

Hayes was denied parole 10 times before the board finally approved his release.

The board's vote was quickly criticized by law enforcement unions. "It is a travesty that yet another murderer who killed a member of law enforcement in cold blood will be turned loose on the streets to reintegrate with the public, whom his victim gave his life to protect," said Michael Powers, president of the New York State Correctional Officers and Police Benevolent Associated.

"If Gov. Cuomo truly is serious about criminal justice reform, he must start by fixing a broken parole system that would allow such a sinister killer to go free."
Powers also slammed an executive order Gov. Cuomo issued in April that gave parolees the right to vote. "Forcing citizens to be vigilant that convicted killers may be in their polling place makes a mockery our democratic process," he said.

Cuomo spokesman Richard Azzopardi said the governor disagrees with the parole board.
"Our law enforcement officers and first responders have dedicated their lives to keeping their communities safe and anyone who murders one of these heroes should remain locked away," he said. "This is an independent board, but we disagree with this decision in the strongest possible terms."

June 20, 2018 THE VSF BILLS IN ALBANY ARE DEAD IN THE WATER!
Despite the untiring efforts of the association's legislative committee led by Chairman Tony Piazza, and his able assistants, John Rini and John Giangrasso, the bills submiited in April died in committee when the City of New York somehow, at the last minute, was able to insert a clause requiring a Home Rule Message. Knowing the past actions of our former employer, it turned out to be a death sentence for the bills.
From President Ed Russo and Lou Hollander:
Board and Board Members:

I regretfully report to you that I have just been informed by our legislative committee that our sincere and hard work with our efforts to obtain the latest VSF has "BEEN LOST". I was further informed that at the last minute in committee in Albany, and without anyone really noticing it, the home rule was inserted back in the bill making it impossible for the bill to pass. This is what shot us down the last time. I believe this shows the integrity of some of our politicians: you just can't trust any of them!!

Please give credit to our legislative committee who worked so hard and diligently with so much time and effort they placed into this.
Please inform or forward this to all members concerned.
May "GOD BLESS THE TRANSIT POLICE"

Fraternally,
Ed Russo
Reply from Floyd Holloway
"It was probably due to the Mayor's people at work. They want us to give up the fight. Remember that it took us seventeen years (1970 to 1987 ) to get the VSF before. Our members that retire after 20yrs of service deserve and are entitled to the benefit."
Reply from Tony Lomanto

"We can only thank Tony Piazza, John Rini and John Giangrasso for all their hard work in fighting this unjust ruling. It also makes you wonder what some of the politicians did or didn't do to prevent this last minute glitch

June 16, 2018 PENSION C.O.L.A. INCREASE IN SEPTEMBER
A special thanks to Alan Berkowitz berky4@aol.com
The cost-of-living adjustment (COLA) for September 2018 through August 2019 benefit payments is 1.2%.

As a result, an eligible retired member with an annual benefit of $18,000 or more will receive a maximum increase of $18 per month beginning with the September 2018 payment. (Eligible members receiving an annual benefit under $18,000 will receive a lesser monthly increase.)

This latest COLA will bring the cumulative maximum monthly increase since COLA legislation was enacted in 2001 to $348 (see chart below).
New York's permanent, automatic COLA is designed to help offset inflation's adverse effects on the fixed retirement benefits of the state's public retirees. By law, the COLA can be no less than 1% and no more than 3% annually and is applied only to the first $18,000 of the retirement benefit. The COLA percentage is calculated by taking 50% of the Consumer Price Index (CPI) increase from one March to the next and rounding up to the nearest tenth. The CPI increased 2.36% from March 2017 to March 2018.

COLA Eligibility
To be eligible for a COLA, you must either be:
• At least age 62 and retired at least five years; or,
• At least age 55 and retired at least 10 years; or,
• A retiree receiving a NYSTRS disability benefit for at least five years (regardless of age); or,
• A surviving spouse of an eligible retiree receiving a lifetime benefit. (By law, the spouse receives an increase equal to one-half the COLA the retiree would have received.)

Retirees who become eligible for the COLA after September will receive their adjustment when first eligible.
COLA Percentages and Maximum Increases

*Maximum monthly increase for eligible retirees with an annual benefit of $18,000. Retirees receiving an annual benefit less than $18,000 received a lesser monthly increase

June 7, 2018 REPORT OF JUNE MEMBERSHIP MEETING
A thank you for taking the minutes goes to Exec. Secty Ron DiMaio
MINUTES OF RETIREE MEETING ?>6/6/18 AT FOP HQ
7:15 PM President Russo opened meeting and led the Pledge of Allegiance.

Treasurer Tony Lomanto read the names of those members who have died recently.

A break from the meeting was taken for the refreshments so ably done through the work of Recording Secretary Bob Valentino

A motion was passed to suspend the regular meeting for the induction of members into the Sports Hall of Fame.

Recording Secretary Bob Valentino ran the induction of three new members into the Sports Hall of Fame, with the assistance of Bob Ganley:
Ret. P.O. Jim Scott for Power Lifting, Arm Wrestling and Boxing
Ret. P.O. Bobby Nieves for Softball. Bobby was at the Florida Reunion and his award was accepted by Ret. Det. Tony Norcia
Ret. Lt. Marion Palermo-Lugo for Golf
Jim Scott and Mario Palermo-Lugo spoke to the members present and thanked the Association for their awards.
Tommy Greer is handling the tickets for the Mets-Yankee Game and is sold out. Our thanks go out to Tom for his hard work.
Our good friend Paul DiGiacomo, V.P. of the D.E.A. is recovering from a recent illness.
Dr. Ente, M.D., our Police Surgeon, spoke about a new inoculation shot for Shingles, which is 90%+ effective. The old shots were only 20% effective. The new one will soon be covered by insurance. The cost is about $250.00 for two shots which are spaced six months apart. Cancer is being caused by plastic that was burned at the World Trade Center site on 9/11. Probiotics in yogurt, sour cream, Activia, etc. to put good bacteria into your body to build up immunity. He recommends that everyone should take probiotics on a regular basis.

Ed Russo reported that the FOP will run a nine day cruise in July 2019. The next two meetings are: September 6, at the FOP and October 4, at Antun's.

Legislative Chairman Tony Piazza spoke about the two VSF Bills that we have in Albany. Please see Beyond the Line for information to write letters urging passage of these Bills. There are now less than the 457 retired Transit Police Officers reported in the 2017 actuarial report that would be entitled to the VSF.

50/50 drawing was held. We had four $50.00 cash prices and merchandise that was donated by Ret. Sgt. John Reeves.

9: the meeting was adjourned.
Respectfully submitted,
Executive Secretary
Vincent R. Di Maio
Here are a few photos taken at this event: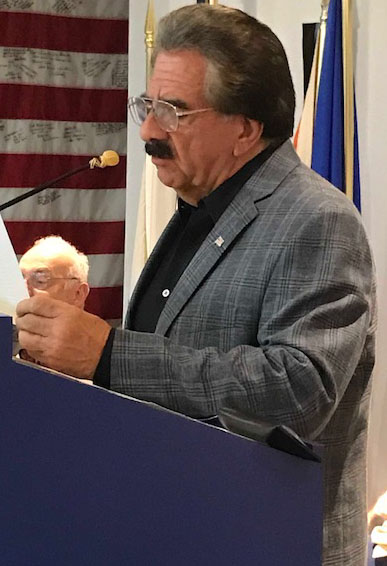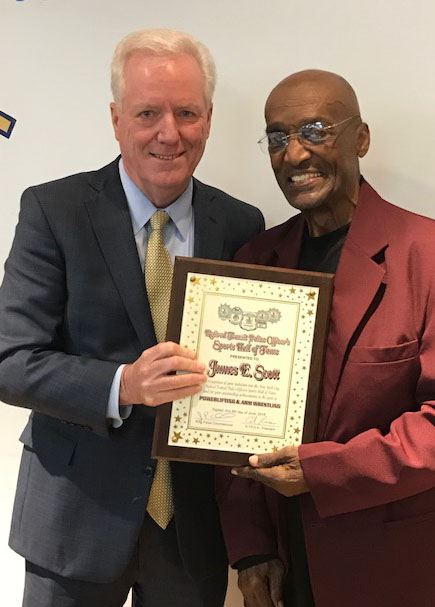 MC Bobby Valentino Bob Ganley and Jimmy Scott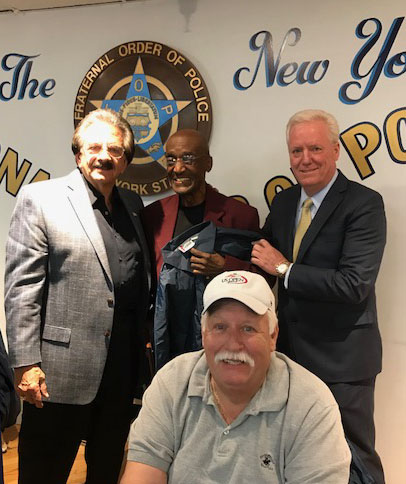 Jimmy Scott receiving his Hall of Fame jacket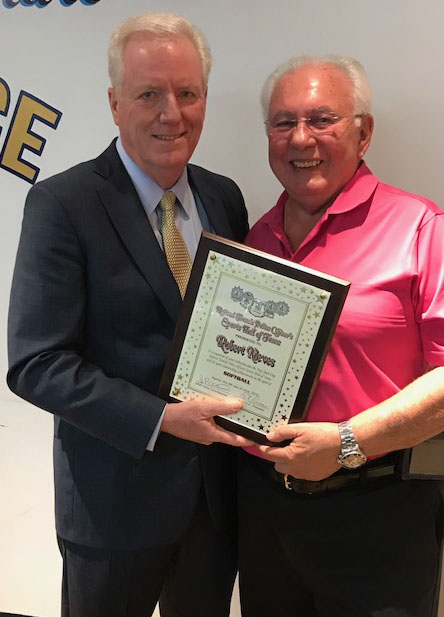 Bob Ganley & Tony Norcia accepting for Bobby Nieves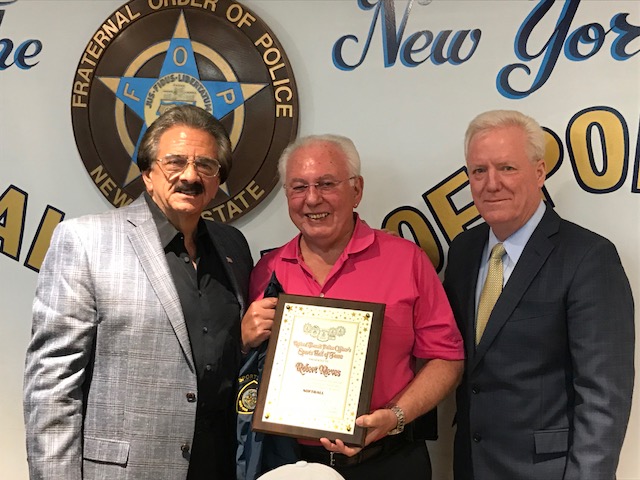 Bobby Valentino, Tony Norcia and Bob Ganley accepting jacket for Bobby Nieves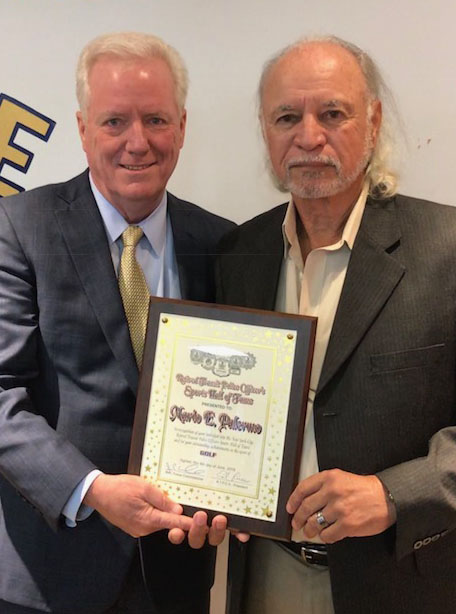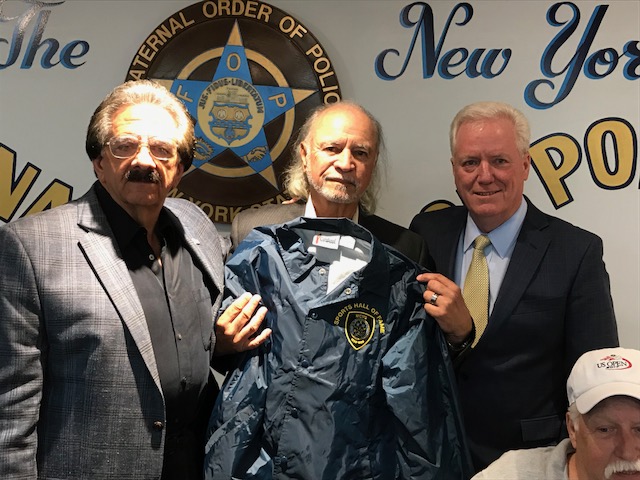 Bob Ganley & Mario Palermo-Lugo Bobby, Mario & Bob Ganley accepting his jacket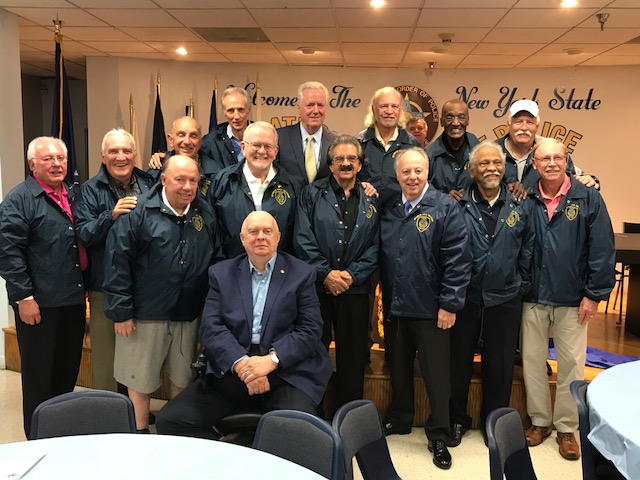 Group shot of current Sports Hall of Fame members at meeting
Our congratulations to the newest members of an elite group of athletes and a hearty thank you to Bobby Valentino and Bob Ganley for putting this memorable event together.

May 5, 2018 GREAT TURNOUT AT NYS FOP POLICE MEMORIAL DAY
It was a beautiful day to sadly remember the additional 74 names that were added to the NYS Fraternal Order of Police Memorial Wall today. Among the many names added, one of which dates back to the NYPD in 1869, was that of one of our own,
Transit Police Officer William "Billy" Martin. Billy's name was added as a result of the untiring efforts of our 2nd VP, Harry Hassler and with help from member Bob Ganley, who fought hard to get Bill classified as a Line Of Duty death. It also resulted in Bill being placed on the Memorial Wall of the NYPD at 1 Police Plaza last year.
Below are a few photos taken at the ceremony.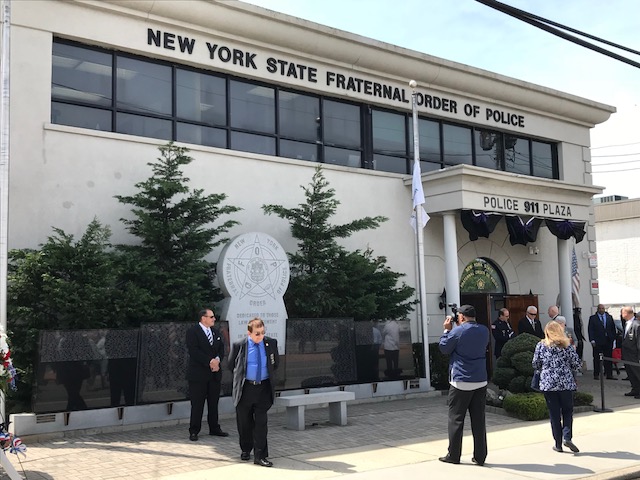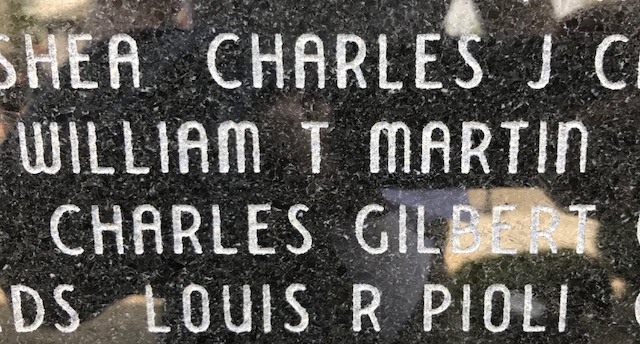 The Memorial Wall in front of the NYS FOP Headquarters Billy Martin's name on the Wall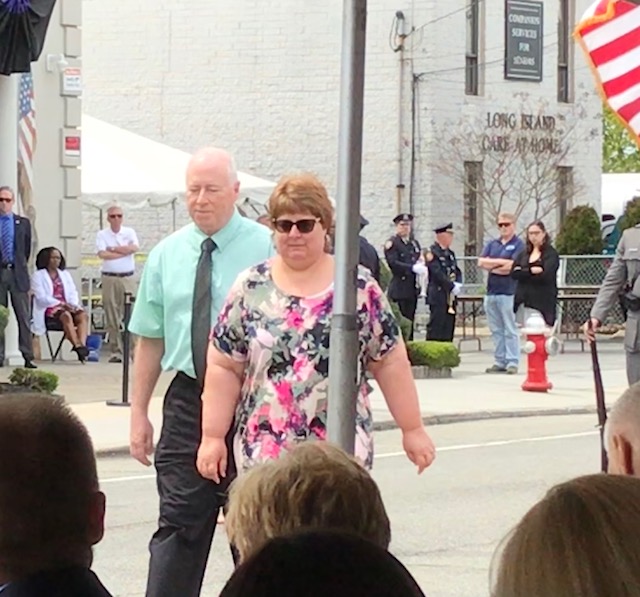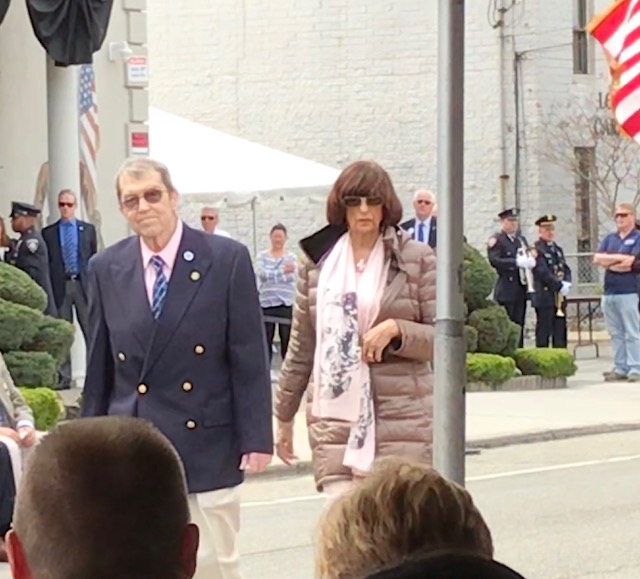 Billy's daughter, Kathleen, and her husband after viewing the Wall 2nd VP Harry Hassler and his wife, Barbara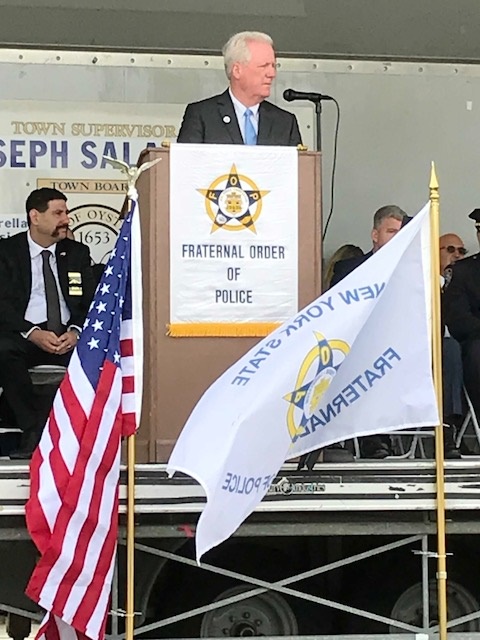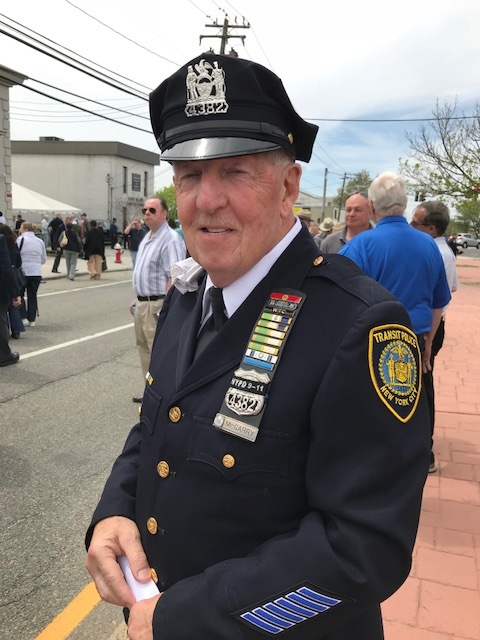 Ass't NYPD Commissioner Bob Ganley speaking at ceremony Member & FOP Executive VP Joe McGarry (note the patch)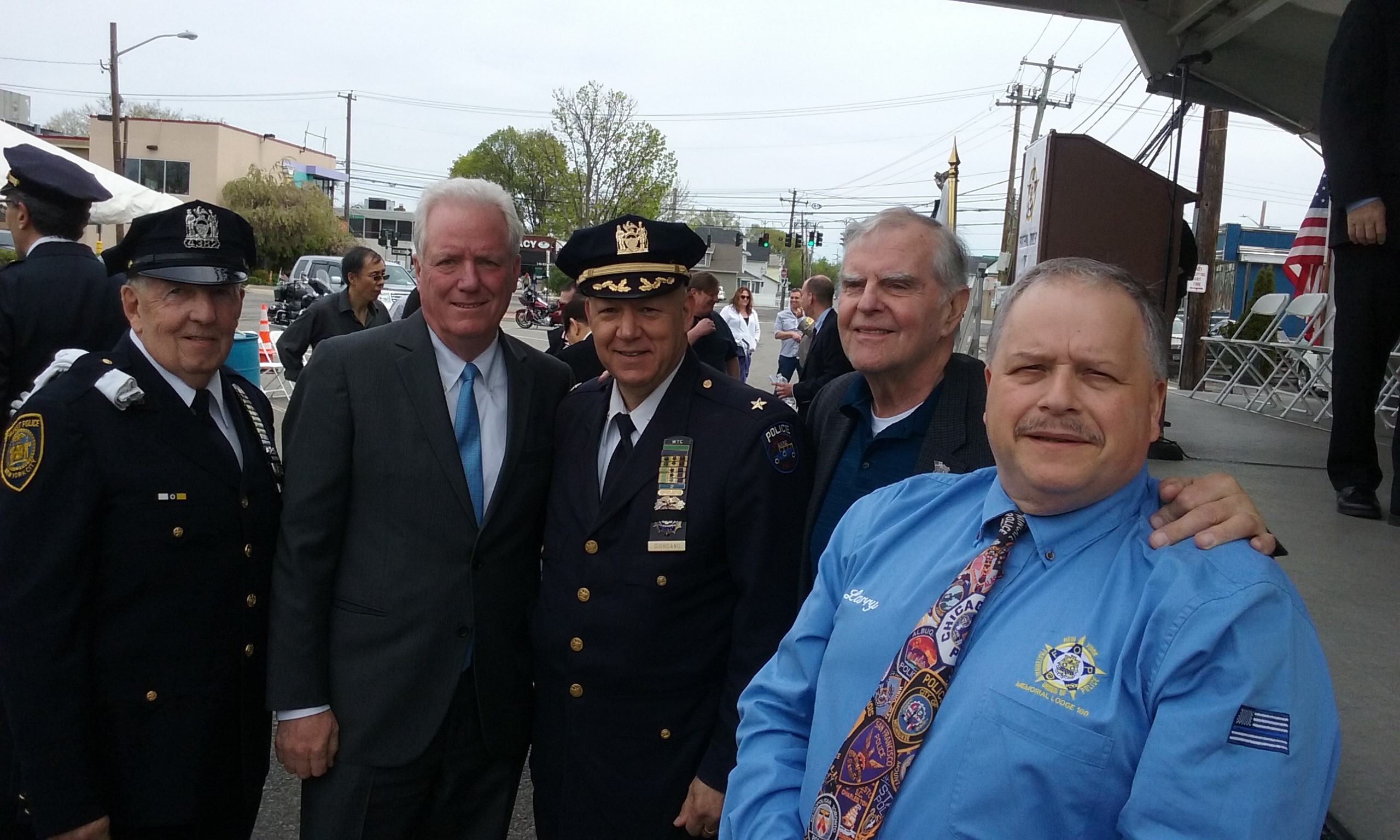 McGarry, Ganley. Giordano, Petito, Lombardo