UPDATED
June 6, 2020


May 15, 2020 UPDATE FOR THE V.S.F. AND OTHER NOTEWORTHY INFORMATION
From Tony Piazza, Association Legislative Director app899@outlook.com

On May 14th, Senators Savino and Lanza introduced Senate Bill S8306 with wording similar to the Assembly bill

In the upcoming future, and in all fairness and caring for those retirees who were unjustly denied the VSF, we will be asking our fellow Transit officers living in New York for their support in a letter writing campaign to their State and Assembly representatives to stand behind and vote in favor of these bills. We will have the links to the Senate and Assembly to search and see who your representatives are.

Tony has informed us that a bill was introduced in the NYS Assembly for those eligible retirees who were denied the VSF. This is the information available:

BILL NUMBER: A10324

SPONSOR: Lentol

TITLE OF BILL

An act to amend the administrative code of the city of New York, in relation to extending the benefits of the variable supplements fund for transit police members of the New York city employees' retirement system

PURPOSE OR GENERAL IDEA OF BILL

Relates to extending the benefits of the variable supplements fund for transit police members of the New York City employees' retirement system.

SUMMARY OF PROVISIONS

This legislation amends the definition of "Beneficiary' as put forth in paragraphs (c) of subdivisions 1 of section 13191, as amended by Chapter 577 of the Laws of 1992, of the Administrative . Code of the City of New York to extend the benefits of the variable supplements fund to all New York City Transit Police who receive a retirement allowance by reason of having retired, on or after October 1, 1968, for service.

JUSTIFICATION:

Former members of the NYC Transit Police that retired for service after June 30, 1987 'presently receive a supplemental benefit from the Vari- able Supplements Fund {hereinafter referred to as the ("VSF"). The VSF was enacted into law as a result of a fact finders award in 1970 and was granted to members of the NYC Police and Fire pension funds who retired for service after October 1, 1968,

In the mid 1960s members of the. Transit Police were granted and given pay and retirement benefit parity. However, the VSF was not bestowed upon similarly situated members of the department until legislation was enacted effective after July 1, 1987. As a result members were in parity until unjustly removed on July 24, 1992, as beneficiaries. As a matter of equity and fairness, the VSF should be granted to all members of the Transit Police who retired from service subsequent to October 1, 1968.

PRIOR LEGISLATIVE HISTORY

2006 A.4978-A/S.2453-A
2007-08 A.9055-A/S.3274-A
2009-10 A.9102A/S.4111-A
2011-12 A.9670

FISCAL IMPLICATIONS FOR STATE AND LOCAL GOVERNMENTS

To be determined.

EFFECTIVE DATE: This act shall take effect Immediately.

10324

IN ASSEMBLY

April 22, 2020
___________

Introduced by M. of A. LENTOL -- read once and referred to the Committee
on Governmental Employees

AN ACT to amend the administrative code of the city of New York, in
relation to extending the benefits of the variable supplements fund
for transit police members of the New York city employees' retirement
system

The People of the State of New York, represented in Senate and Assem-
bly, do enact as follows:

1- 1 Section 1. Paragraph (c) of subdivision 1 of section 13-191 of the
1- 2 administrative code of the city of New York, as amended by chapter 577
1- 3 of the laws of 1992, is amended to read as follows:
1- 4 (c) "Beneficiary". Any person who receives a retirement allowance by
1- 5 reason of having retired, on or after [July first, nineteen hundred
1- 6 eighty-seven] October first, nineteen hundred sixty-eight for service
1- 7 (with credit for twenty or more years of service toward the minimum
1- 8 period) as a transit police officer; provided, that no person who held a
1- 9 rank or position as a transit police superior officer, as defined in
1-10 subdivision eighty-four of section 13-101 of this title who, on or after
1-11 May first, nineteen hundred ninety-two, subsequently became a transit
1-12 police officer shall be considered a beneficiary unless such person (1)
1-13 subsequently performed at least three years of service as a transit
1-14 police officer or (2) returned to service, from the position of
1-15 sergeant, as a transit police officer during the eighteen month proba-
1-16 tionary period, or such other probationary period as may be applicable
1-17 or (3) returned to service as a transit police officer during the three
1-18 year period specified in paragraph (e) of subdivision one of section
1-19 seventy-five of the civil service law, or (4) returned to service as a
1-20 transit police officer as the result of a hearing conducted pursuant to
1-21 applicable law.
1-22 § 2. Paragraph (b) of subdivision 1 of section 13-192 of the adminis-
1-23 trative code of the city of New York, as amended by chapter 720 of the
1-24 laws of 1994, is amended to read as follows:
1-25 (b) "Beneficiary". Any person who receives a retirement allowance by
1-26 reason of having retired, on or after [July first, nineteen hundred]
EXPLANATION--Matter in italics (underscored) is new; matter in brackets
[ ] is old law to be omitted.
LBD15695-03-0



A. 10324 2

2- 1 [eighty-seven,] October first, nineteen hundred sixty-eight, for service
2- 2 (with credit for twenty or more years of service toward the minimum
2- 3 period) as a transit police member and as a transit police superior
2- 4 officer; provided, however, that where a person who held or holds a rank
2- 5 or position as a transit police superior officer, subsequently and on or
2- 6 after May first, nineteen hundred ninety-two became or becomes a transit
2- 7 police officer, and while a transit police officer, retired or retires
2- 8 for service under such circumstances that he or she would have qualified
2- 9 as a beneficiary under the provisions of paragraph (c) of subdivision
2-10 one of section 13-191 of this title (other than the proviso thereof),
2-11 but did not or does not qualify as a beneficiary under such paragraph
2-12 (c) because he or she was or is disqualified by the terms of such provi-
2-13 so, such retiree shall nevertheless be deemed to be a beneficiary under
2-14 the provisions of this section.
2-15 § 3. This act shall take effect immediately.


FISCAL NOTE.--Pursuant to Legislative Law, Section 50:

SUMMARY OF BILL:
This proposed legislation would amend Sections 13-191 and 13-192 of the Administrative Code of the City of New York (ACCNY), both enacted by Chapter 844 of the Laws of 1987, to extend the eligibility provisions providing for the payment of Transit Police Officers' and
Transit Police Superior Officers' Variable Supplements Funds (VSF) benefits to certain retirees.

Specifically, this proposed legislation would provide for payments to former New York City Employees' Retirement System (NYCERS) members who are retired for service from the New York City Transit Police (TP) between October 1, 1968 and June 30, 1987 (Prior Retirees) with 20 or more years of service. These benefits would be paid from the following VSFs (referred to hereafter as the Impacted VSFs):
* Transit Police Officers' Variable Supplements Fund (TPOVSF), and
* Transit Police Superior Officers' Variable Supplements Fund (TPSOVSF).

EFFECTIVE DATE: Upon enactment.

IMPACT ON BENEFITS - VSF PAYMENTS:
Each of the Impacted VSFs currently provides supplemental non-pension benefits to former NYCERS members who retired for service on or after July 1, 1987 as TP with 20 or more years of service.

The amount of VSF benefits paid is currently $12,000 per Calendar Year. These VSF benefits are payable on an annual basis around December 15th to eligible former NYCERS members for their lifetimes. There are no optional forms of payment. Upon the death of the NYCERS retiree, VSF payments cease.

If the proposed legislation were to be enacted, all Prior Retirees would become immediately eligible for VSF benefits on the December 15th subsequent to the Effective Date and for each year thereafter. For the purposes of this Fiscal Note, the Actuary has assumed that benefits payable under this proposed legislation are prospective only (i.e. there would be no retroactive payments for VSF benefits due before the Effective Date for such Prior Retirees).

FINANCIAL IMPACT - PRESENT VALUES: Based on the census data and the actuarial assumptions and methods noted herein, the enactment of the proposed legislation would increase the Present Value of Future Benefits (PVFB) of the Impacted VSFs by approximately $30.2 million as of June 30, 2019.

There are no active TP members of NYCERS and therefore there is no mechanism in place for funding the TP VSFs since the VSFs' funding allocation method normally would be based on the ratio of active TP member salaries to salaries of all active members in NYCERS. As a consequence, a transfer from NYCERS to the Impacted VSFs would be necessary to fund the additional VSF benefit obligations.

FINANCIAL IMPACT - EMPLOYER CONTRIBUTIONS:
In accordance with Section 13-638.2(k2) of the Administrative Code of the City of New York (ACCNY), new Unfunded Accrued Liability (UAL) attributable to benefit changes are to be amortized as determined by the Actuary, but are generally amortized over the remaining working lifetime of those impacted by the benefit changes. For the purposes of this Fiscal Note, since those that would benefit are retired, and therefore have no remaining working lifetime, the entire increase in UAL (or PVFB) of $30.2 million would be recognized immediately.

CONTRIBUTION TIMING: For the purposes of this Fiscal Note, it is assumed that the first VSF benefit payment would be made in December, 2020 and therefore, changes in the PVFB, and UAL would be reflected for the first time in the June 30, 2019 actuarial valuation of NYCERS. In accordance with the One-Year Lag Methodology (OYLM) used to determine employer contributions, the increase in employer contributions would be reflected in Fiscal Year 2021.

CENSUS DATA: The estimates presented herein are based on the census data used in the Preliminary June 30, 2019 (Lag) actuarial valuation of NYCERS to determine the Preliminary Fiscal Year 2021 employer contributions. The 414 Prior Retirees as of June 30, 2019 had an average age of approximately 78.9 years.

ACTUARIAL ASSUMPTIONS AND METHODS: The changes in the PVFB and UAL presented herein have been calculated based on the actuarial assumptions and methods in effect for the June 30, 2019 (Lag) actuarial valuations used to determine the Preliminary Fiscal Year 2021 employer contributions of NYCERS.

RISK AND UNCERTAINTY: The costs presented in this Fiscal Note depend highly on the realization of the actuarial assumptions used, as well as certain demographic characteristics of NYCERS and other exogenous factors such as investment, contribution, and other risks. If actual
experience deviates from actuarial assumptions, the actual costs could differ from those presented herein. Costs are also dependent on the
actuarial methods used, and therefore different actuarial methods could produce different results. Quantifying these risks is beyond the scope
of this Fiscal Note.

Not measured in this Fiscal Note are the initial, additional administrative costs of NYCERS and other New York City agencies to implement the proposed legislation.

STATEMENT OF ACTUARIAL OPINION:
I, Sherry S. Chan, am the Chief Actuary for, and independent of, the New York City Retirement Systems and Pension Funds. I am a Fellow of the Society of Actuaries, an Enrolled Actuary under the Employee Retirement Income and Security Act of 1974, a Member of the American Academy of Actuaries, and a Fellow of the Conference of Consulting Actuaries. I meet the Qualification Standards of the American Academy of Actuaries to render the actuarial opinion contained herein. To the best of my knowledge, the results contained herein have been prepared in accordance with generally accepted actuarial principles and procedures and with the Actuarial Standards of Practice issued by the Actuarial Standards Board.

FISCAL NOTE IDENTIFICATION: This Fiscal Note 2020-27 dated April15, 2020, was prepared by the Chief Actuary for the New York City Employee's Retirement System. This estimate is intended for use only during the 2020 Legislative Session.
- End of Report -
---
VERY NICE NOTE AND GIFT FROM LIFETIME MEMBER RET. SGT. CYRIL OBERLE
Cy Oberle is a Past President of the Wilmington NC 10-13 Club and along with his annual donation (Thank you!) he sent a very nice Challenge coin from the Club. Cy also mentioned that the 2.5" coins are available from the Club at a cost of $10 each and can be obtained from their website www.wilmington10-13.org or send a check made out to Wilmington 10-13 Club and mail to:

Cy Oberle
901 Saltwood Lane
Wilmington NC 28411-7670
His phone: 910-616-6077.

He also reported that on the reverse side with the crossed flags, and it wasn't intentional, is a copy of a Transit Police Department shield. Way to go!!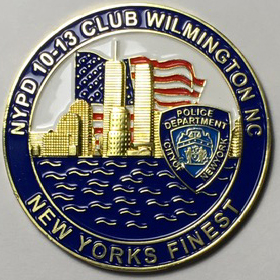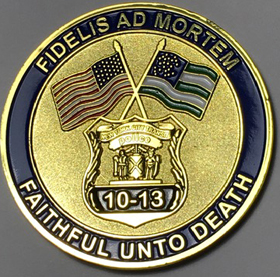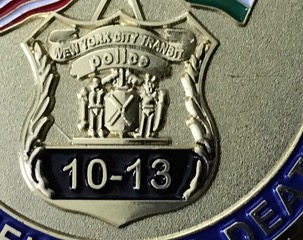 April 23, 2020 TRIBUTE TO THE LATE RET. DEPT. INSP. LEONARD PEZZILLO
This was sent out by Lou Hollander keystonecop1@verizon.net as received from Bob Valentino RValent558@aol.com
IN MEMORY OF RET. DEP. INSP. LEONARD PEZZILLO
Hi Robert,

Thank you. I write this with a very heavy heart and tears in my eyes.

Our dad was the greatest man we have ever known. Always funny, fair and loved to have a good laugh with his friends and family. We were very proud of him as he was of his children.

He is survived by his wife, Patricia Pezzillo and three children, Craig Pezzillo, Brian Pezzillo and Kara Foldes. Daughter in-laws, Josephine and Christine Pezzillo and son in-law David Foldes. Grandchildren Lucian Pezzillo, Sabrina Pezzillo and Siena Pezzillo. Sisters Linda LaSpina and Karen Tynan.

Our dad had an underlying heart condition that unfortunately acted up during his quarantine at home. He went into St Francis on April 9th and he passed at 5:30am on April 15th, 2020 from a very sudden and unfortunate cardiac event following a stent placement. He was a very young 75 year old, still sharp as a whip.

Our dad enjoyed bowling with the shoe flies, lunches with his friends from the force such as Bill Gardella and swimming. He loved his family very much and always looked after us and kept us safe. He was our voice of reason and guided all of us in making smart decisions. He made sure his children all had college education and were able to make a living.

Because of social distancing measures, we were not able to visit him in the hospital during his last few days. We are not able to mourn together as a family or visit our mom. Our dad's wish in the end was to be cremated. He was not one for big to-dos in his name and didn't want people crying over him. There will not be a funeral.

We are saddened that such a great man could not be honored properly. He did so much for so many and his life will be celebrated through his memory now.

Thank you for helping to keep his memory alive. If anyone wants to share a memory of our dad we welcome that through his daughter Kara Foldes' email kpezzillo@gmail.com.

Here are some photos.

April 18, 2020 TRIBUTE TO THE LATE RET. P.O. JOHN NORRIS

THE PASSING OF JOHN NORRIS
Trubute by Lee Winters

Sometimes one sentence defines you, speaks of your essence.

I worked with John Norris for many years in Dist. 20. We had some good conversations through those years. I can't remember most of them. It's just that I came away thinking of him as a real gentleman. I do recall his retiring in 1980.
In a phone call I asked John if he'd be willing to sell me his leather jacket as mine was pretty well shot. He said sure. I said, "How about forty dollars?" John said, "How about thirty?" As I said, John Norris was a gentleman. May he rest in well-deserved peace.
His leather jacket still serves:

April 18, 2020 LATEST UPDATE FOR MEDICARE PART 'B' REIMBURSEMENT
Sent by Lou Hollander as received from Alan Berkowitz
berky4@aol.com

I am resending my original e-mail informing Retirees that we now have to fill out a differential form every year if you received Medicare prior to a certain date!
Subject: 2019 Medicare Part "B" Reimbursement Differential Request Form.
PLEASE PASS ON THIS INFORMATION TO YOUR FELLOW RETIREES WHO DO NOT HAVE ACCESS TO A COMPUTER

To all the retirees who originally couldn't find the form? The IRMAA form is in the original e-mail I sent. Please follow the directions of the forms!
Alan Berkowitz

https://www1.nyc.gov/assets/olr/downloads/pdf/health/med-b-differential-form-2019.pdf
To whom it may Concern,
This email is in regards to your Medicare Part B reimbursement differential inquiry.
Please note that we are currently not processing any 2019 applications at this moment, you will need to resubmit your application and documents once processing begins. Continue to check the OLR website for updates on this matter.

Best Regards,
Kavita Lalchan
Office of Labor Relations
Community Associate

If you submit forms before October 2020, they will have to be resubmitted

Medicare Part B 2019 Differential Reimbursement
Medicare Part B 2019 differential reimbursements are scheduled to be issued by the end of March 2021.
• Medicare Part B 2019 differential payments up to $318 will be issued once the Medicare Part B and IRMAA payments are processed in calendar year 2020.
• Those retirees who are eligible for 2019 Medicare Part B differential reimbursements must submit the Medicare Part B 2019 Reimbursement Differential Request Form
• Health Benefits Program staff will be processing Medicare Part B 2019 Reimbursement Differential Request Form once IRMAA payments are issued in October 2020


Please Read, Please Read

Do not submit your 2019 Differential Form until October 2020. The city must first process the 2019 IRMMA payments and distribute them in October 2020. Only then will the City of New York Office of Labor Relations accept your 2019 Medicare Part B Differential Form! If you submit prior to October 2020 you will have to submit again. Thank you.
Alan Berkowitz

https://www1.nyc.gov/site/olr/health/healthhome.page
Medicare Part B 2019 differential reimbursements are scheduled to be issued by the end of March 2021.

April 16, 2020 SHIELDS STOLEN FROM THE LATE DET. GEORGE CACCAVALE'S DAUGHTER
This was sent out by Lou Hollander keystonecop1@verizon.net

The daughter of a slain NYTPD detective is pleading for the return of a replica of her father's badge swiped from her car outside her Westchester County home.

The small badge was among three stolen from her vehicle by crooks who broke into at least a dozen others in her Pelham Manor neighborhood on April 9, Carla Caccavale told the Daily News.
"The one that was my father's is an exact mini replica of my dad's detective shield in a small leather case," she said during a phone interview.
She discovered the badge was stolen Friday morning. It was taken, she said, along with two challenge coins that bear the names of and are designed to look like the badges of Commissioner Dermot Shea and former Commissioner James O'Neill.
The challenge coins were gifts to her two sons from the commissioners. The replica of her father's badge she has had for years.
Caccavale, who has three cousins in the NYPD and a fourth cousin who is retired from the force, explained she kept the three replicas in her car in case of emergency. The vehicle was parked in her circular driveway just outside her house. Now all she really wants is to get them back.
"The fact that these badges are out there and in the hands of someone who is clearly beneath the law makes me unable to sleep at night and sick to my stomach," she said.
Her father, Transit detective George Caccavale, was gunned down in 1976 when she was just 20 days old. The 11-year veteran of the NYPD was shot three times outside a check cashing store on Van Dam St. in Long Island City, the Daily News reported at the time. He was off duty and working security for the business. That day he was carrying a bag with $30,000 in cash into the store when he was set upon by three assailants and killed.
There are several memorials that bear the 33-year-old's name, including the wall at One Police Plaza. An NYPD police dog who officially joined the force in October is also named after Caccavale.
Caccavale has another, full-sized replica of her father's badge, along with his original hat. Her brother has his actual badge. She told The News that O'Neill has already stepped forward to help get her a replacement "coin" modeled after his badge, but the replica she kept in her car of her father's detective shield remains important to her. And her hope is that someone will return the stolen replicas.
"I felt really bad, being so upset about this in light of everything going on." she said. "But for us, it is a really big deal."


April 16, 2020 TRIBUTE TO BOB ABRAHAM FROM RABBI BERKOWITZ
This was sent out by Lou Hollander keystonecop1@verizon.net
Thank You, Robert Abraham-
During the High Holidays and other Fast Days, the prayer service concludes with the following request:
"Our Father, Our King....treat us with righteousness and kindness........"
Ever since I met Bob at Congregation Bnai Israel in Staten Island in 1978, I knew I met a friend for life. At that time, I was the principal of the Hebrew School, and Bob's children, Wendy, Scott, and Kenny, were my students. His interest in his children's schoolwork was the spark that brought us together. Bob, at that time a sergeant in the New York City Transit Police Department, mentioned to me that the Jewish fraternal organization, the Gonen Society, was looking for a chaplain. He encouraged me to apply, and the rest is history. With his encouragement, I took a very active part within the society, but at the same time, developed a strong bond with the rank and file members of the Transit Police. Ten years later, as president of the Gonen Society, Bob encouraged the Transit Police to hire me on a part-time basis. Several years later, under Chief William Bratton, I was hired full- time as the "eyes and ears" of the Department.
Bob was very dedicated to the Gonen Society, and later, as president, to the National Conference of Shomrim Societies. It was at that time, again with his encouragement, that I became a chaplain for National Shomrim. His kindness to his colleagues was very sincere. Proud of his Jewish heritage, he focused on Judaism's moral principles of righteousness and kindness in carrying out his responsibilities on and off the job. His creative experience, smile, and sense of humor attracted many devotees from all walks of life, including other police agencies and fraternal organizations. However, he also stood his ground in making sure that everyone was dealt with justly and with kindness.
G-d expects each one of us, while enjoying the gift of life on this earth, to do our part in becoming His partner. Bob certainly played a key role in that endeavor.
May Robert Abraham's name be remembered as a blessing and lesson of genuine leadership.
May his soul be bound in the bond of eternal life.
With sadness,
Rabbi Tzvi Berkowitz
Ret. Chief Chaplain
NYC Transit Police
NY State MTAPD

April 14, 2020 INFORMATION FOR MEMBERS WITH AETNA MEDICARE ADVANTAGE & THE COVID VIRUS
Information sent by Alan Berkowitz berky4@aol.com
Check out the latest information from Aetna HERE Please check the information below in the April 1st posting also.

April 11, 2020 FLORIDA REUNION FOR 2020 HAS BEEN CANCELLED
From Lou Hollander as received from Marilyn Scahill & Bill McKechnie and the Reunion staff members
FLORIDA REUNION CANCELLED
We know that we had informed you just a few weeks ago that after discussions with the hotel the reunion was a go. That's what at the time we had hoped for and that is what we believed was possible. We know we don't have to tell you that every day brings worse news concerning the pandemic known as covid-19 and everyday has brought new government guidelines, regulations, mandates, warnings ; etc.
After much discussion and deliberation, we have regrettably come to the conclusion that our reunion scheduled for June 26th must be cancelled.
When this pandemic first raised its ugly head, we thought it would be over well before our reunion. Little did we understand the possible ramifications of covid -19. In the beginning we could never have realized the impact it could and has had on us, as individuals, and the havoc it would bring upon us as a country. We had always said that if and when we were faced with this decision concerning the reunion the only factor that would determine our decision making process would be its impact on your health and safety.
This pandemic has developed into something worse than any of us could have ever imagined. Just look at it what it has done to our everyday lives not to mention our economy; who would have ever thought that we would be told we could not leave our homes without gloves and masks, or not be able to go to a restaurant, a bar or even our houses of worship? Also, other government mandates such as people traveling from NY or NJ having to self-quarantine for 14 days upon entering Florida. More than a third of the people planning to attend the reunion are coming from out of state and most of them from New York or New Jersey. Then, there's the social distancing edicts, which prohibit more than ten people to gather in the same place. We have over 240 people scheduled to be in the same room for two nights not to mention the gatherings at poolside etc. They say that the people most at risk are those over 65 years of age particularly those with underlying medical conditions. While we can't speak for the underlying medical condition, we know that the majority of our attendees are over 65.
We have no idea when these restrictions will be lifted. We have no idea if government will permit us to proceed with the reunion as we planned. But it appears to us that we are in this thing for the long haul and we have not been able to get information that would indicate that it would be possible, or more importantly prudent to proceed. This is why we have made this very difficult decision. I cannot begin to tell you how it hurts us to do this. The Reunion Committee has been working on the reunion since the day the last year's reunion ended. We have literally put hundreds of hours into planning this not to mention the significant amount of money spent to have everything ready for June 26th.
With all this being said we have notified the hotel in writing that we are cancelling the reunion. We have also advised them we expect that your deposits be refunded fully and promptly. Therefore at this time there is no need for you to contact the hotel. If this changes we will notify you. In closing, let us say we are more than deeply disappointed in having to make this decision, but we do it with clear consciences that we are doing the right thing. We, like you, were looking forward to a great reunion, but your health and safety comes first and when this decision was made that was all that mattered. God Bless you stay well and hopefully we will see you at future reunions.

April 9, 2020 2019 MEDICARE PART 'B' REIMBURSEMENT INFORMATION
Full information on the reimbursements can be seen HERE

April 4, 2020 INTERESTING COMMENT FROM OUR SURGEON, DOC ENTE
We received this from our Honorary Surgeon, Doc Ente entedoc@aol.com who states "I did not write it ...someone sent it to me and I am sending it to you to go into the newsletter. I think it is perfect for the members to read and enjoy...let me know what you think."
I TALKED TO A MAN TODAY
I talked with a man today, a 90+ year old man. I asked him if there was anything I can get him while this Coronavirus scare was gripping America.
He simply smiled, looked away and said:

"Let me tell you what I need! I need to believe, at some point, this country my generation fought for... I need to believe this nation we handed safely to our children and their children...

I need to know this generation will quit being a bunch of sissies...that they respect what they've been given...that they've earned what others sacrificed for."

I wasn't sure where the conversation was going or if it was going anywhere at all. So, I sat there, quietly observing.

"You know, I was a little boy during WWII. Those were scary days. We didn't know if we were going to be speaking English, German or Japanese at the end of the war. There was no certainty, no guarantees like Americans enjoy today.

And no home went without sacrifice or loss. Every house, up and down every street, had someone in harm's way. Maybe their Daddy was a soldier, maybe their son was a sailor, maybe it was an uncle. Sometimes it was the whole damn family...fathers, sons, uncles...

Having someone, you love, sent off to war...it wasn't less frightening than it is today. It was scary as Hell. If anything, it was more frightening. We didn't have battle front news. We didn't have email or cellphones. You sent them away and you hoped...you prayed. You may not hear from them for months, if ever. Sometimes a mother was getting her son's letters the same day Dad was comforting her over their child's death.
And we sacrificed. You couldn't buy things. Everything was rationed. You were only allowed so much milk per month, only so much bread, toilet paper. EVERYTHING was restricted for the war effort. And what you weren't using, what you didn't need, things you threw away, they were saved and sorted for the war effort. My generation was the original recycling movement in America.

And we had viruses back then...serious viruses. Things like polio, measles, and such. It was nothing to walk to school and pass a house or two that was quarantined. We didn't shut down our schools. We didn't shut down our cities. We carried on, without masks, without hand sanitizer. And do you know what? We persevered. We overcame. We didn't attack our President, we came together. We rallied around the flag for the war. Thick or thin, we were in it to win. And we would lose more boys in an hour of combat than we lose in entire wars today."
He slowly looked away again. Maybe I saw a small tear in the corner of his eye. Then he continued:

"Today's kids don't know sacrifice. They think a sacrifice is not having coverage on their phone while they freely drive across the country. Today's kids are selfish and spoiled. In my generation, we looked out for our elders. We helped out with single moms who's husbands were either at war or dead from war. Today's kids rush the store, buying everything they can...no concern for anyone but themselves. It's shameful the way Americans behave these days. None of them deserve the sacrifices their granddads made.

So, no I don't need anything. I appreciate your offer but, I know I've been through worse things than this virus. But maybe I should be asking you, what can I do to help you? Do you have enough pop to get through this, enough steak? Will you be able to survive with 113 channels on your tv?"
I smiled, fighting back a tear of my own...now humbled by a man in his 90's. All I could do was thank him for the history lesson, leave my number for emergency and leave with my ego firmly tucked in my rear.

I talked to a man today. A real man. An American man from an era long gone and forgotten. We will never understand the sacrifices. We will never fully earn their sacrifices. But we should work harder to learn about them..learn from them...to respect them.


April 1, 2020 10-13 FOR JANIS WOOD STILL IN EFFECT
This is a partial repeat of the 10-13 call for Ret. Sgt. Janis Wood who passed away on March 24th.
Sadly, we lost Janis recently, but her very high medical expenses not covered by insurance still remain. This is a repeat of Lou Hollander's 10-13 call from earlir in March.
As you know Janis has cancer and because of the problems she is having, she can't have any chemo treatments. Her very dear friend, Michele. had reached out to Janis' Transit Police Family to help with defraying the costs that are being incurred and are not covered by insurance such as the airlift and other expenses. I was told by Tony Lomanto that the Retiree's and FOP Lodge 317 are sending $500.00 each. Every little bit of money they receive would help and be greatly appreciated. I hope that you can find it in your heart to help. If you would please send a check to:
Arthur Wood
PO Box 134
Oberlin KS 67749.

April 1, 2020 IMPORTANT INFORMATION FOR RETIREES IN THE AETNA MEDICARE PROGRAM
From Alan Berkowitz berky4@aol.com

To all City retirees who are enrolled in the Aetna Medicare Program! Check out this recent announcement from Aetna.p you stay protected during the coronavirus, or COVID-19, outbreak.

Here are a few actions we're taking for our Medicare members:

• Copays

for coronavirus-related testing and doctor visits are being waived.

•We're offering a $0 copay

for telemedicine visits with your doctor.

• You won't have to pay a fee

for home delivery of your prescription medications from CVS Pharmacy® stores.

• You can get your refill early,

if your Aetna Medicare plan has Part D drug coverage. And, for many of the medications we cover, you can get a 90-day supply.

• You'll have 24/7 access

to the Resources For Living® program to help find services and resources in the community. Or, just talk with someone for emotional support.

Simply call us at

1-866-370-4842 (TTY: 711).

• You can speak with a nurse anytime day or night

by calling the Aetna Nurse Medical Line. You'll find the telephone number on the back of your medical ID Card, or call

1-800-556-1555 (TTY: 711)

.

Our main goal is to help keep you safe, healthy and informed during this time of uncertainty. And just remember, we're with you every step of the way.

March 7, 2020 REPORT OF MARCH MEMBERSHIP MEETING

The 1st meeting of 2020 was called to order by President Mike Lanning at 7:15 pm with the Pledge of Allegiance to the Flag and was followed by a moment of silence to remember the 20 members who have died since the last meeting in December, and to remember all those on the Sick List and for our servicemen and women and fellow officers serving in harm's way.

Treasurer Tony Lomanto gave a report on the financials. He reported the Association is doing well and he mentioned that there was a very large number of members who sent in donations of all amounts. They all are very much appreciated for their generosity and their names will appear in the next issue. With the new order of the challenge coins received, all who made a donation and requested a coin have been sent theirs. He also spoke of the 2019 Medicare reimbursements from the City if NY scheduled for April. For further information, please check the Health & Welfare page HERE. We thank Alan Berkowitz and Lou Hollander for their work in keeping us informed.

Tom Greer spoke of the July 28th Mets - Yankee game at Citifield. So far 80 tickets have been sold. If interested, tickets are $118.00 for very good seats. You can send in your check and request to Tom at:
508 Harbor Rd
Cold Spring Harbor NY 11724.
516-419-6146. 631-902-8911.

Vinnie Servedio spoke about the upcoming Romeo & Juliet Luncheon at Stella's Restaurant in Floral Park on Wednesday, March 25th. $85.00 per couple and $45 for singles. You definitely will have a great time. For further information, see the Meetings & Events page

It was reported that the Mass to honor the 50h Anniversary of the death of Ptl. Michael Melchiona was well attended by the Police Commissioner Shea, Chief of the Department Monahan, Transit Bureau Chief PBA President Pat Lynch and many police officers. It was a very warm and moving ceremony and was followed by a luncheon offered by the PBA.
President Lanning told the members that there will be three afternoon meetings this year: May 5th at Verdi's; Sunday, October 4th at the FOP and the Christmas Party will be at 1:00 pm at Antun's. These daytime meetings are more favorable for those who have trouble driving at night and, as was shown at lasat year's meeting at Verdi's, we expect a large number of members attending.

John Giangrasso was thanked for his service on the board last year and Deo Fasolino was welcomed aboard. Deo gave a talk on how we can get more members for the organization. Many times, we hear "Transit Forever," but if they want to help this happen, they should be joining this organization.
Vinnie DiMao talked about how to get ID cards through the mail, especially for those living out of state. The main drawback to this is the fact that it is all done digitally through the computer. Please check out the information on the "Keeping in Touch" page on who to contact. P.O. Bazile is very busy and be aware it will take time before he can get back to you.
Tony Piazza gave a report on the status of the VSF. A meeting is to take place with NYS Sen. Todd Kaminsky of Long Island. This photo was taken at the meeting where Sen. Kaminsky stated he will sign on to the bill being submitted by Sen. Savino.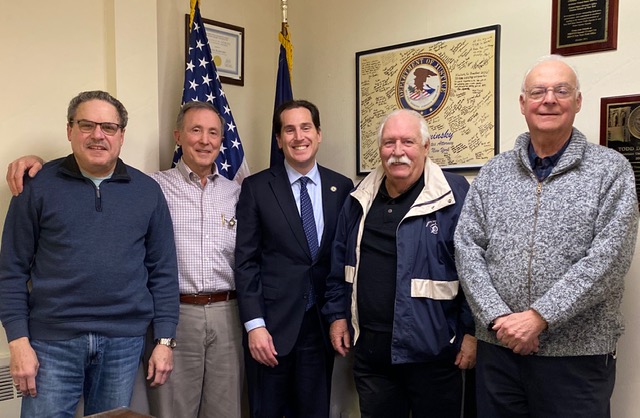 L-R: Tony Lomanto, Leg. Director Tony Piazza, Sen. Todd Kaminsky, Pres. Lanning, 2nd VP Vinnie DiMao
The meeting ended at 8:20 pm.
Our thanks to Rec. Sect'y Bob Forrester and his able assistant (and wife) Fran.

March 5, 2020 VIDEO AVAILABLE FOR PTL. MICHAEL MELCHIONA MEMORIAL MASS
Henry Melchiona contacted us to inform all our members and fellow officers that a professional video was made of the 50th Anniversary Memorial Mass for Hank's brother, Ptl. Michael Melchiona, celebrated this past February 28th.
The video is of excellent quality. Lou Hollander converted it to a YouTube Video which can be viewed on your Smart TV if you have the YouTube app. If you view it on your PC or tablet you can view it in full screen. I hope you enjoyed watching the video as much as I did.

Click here https://www.youtube.com/watch?v=mIaGFK3T78s or paste link into your web browser. It is a very moving and heartwarming video. - Tony
Here are some photos from the Mass: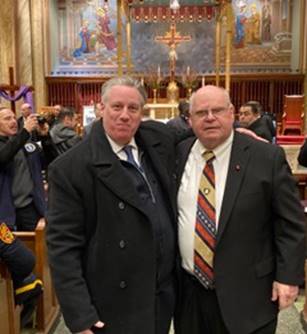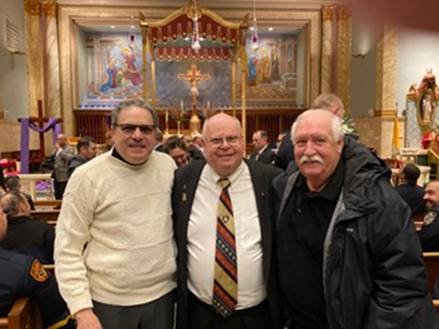 John Moakley & Henry Melchiona Tony Lomanto, Henry Melchiona & Mike Lanning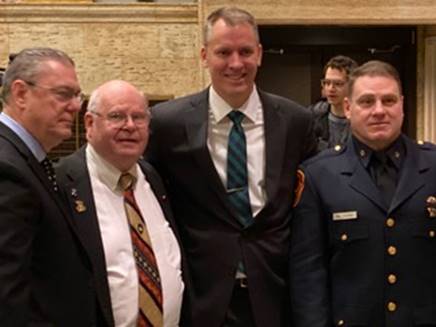 ?, Henry Melchiona, NYPD Comm. Shea, Henry's son Melchiona family & friends gather at end of Mass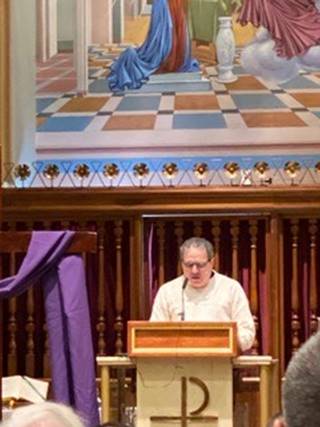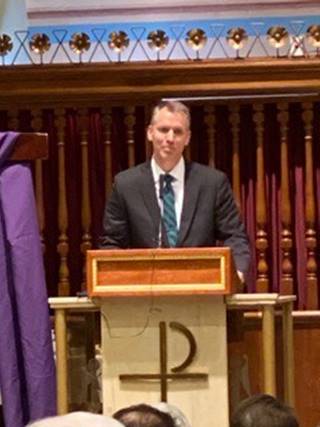 Tony Lomanto doing a Reading during the Mass Comm. Shea speaking to the congregation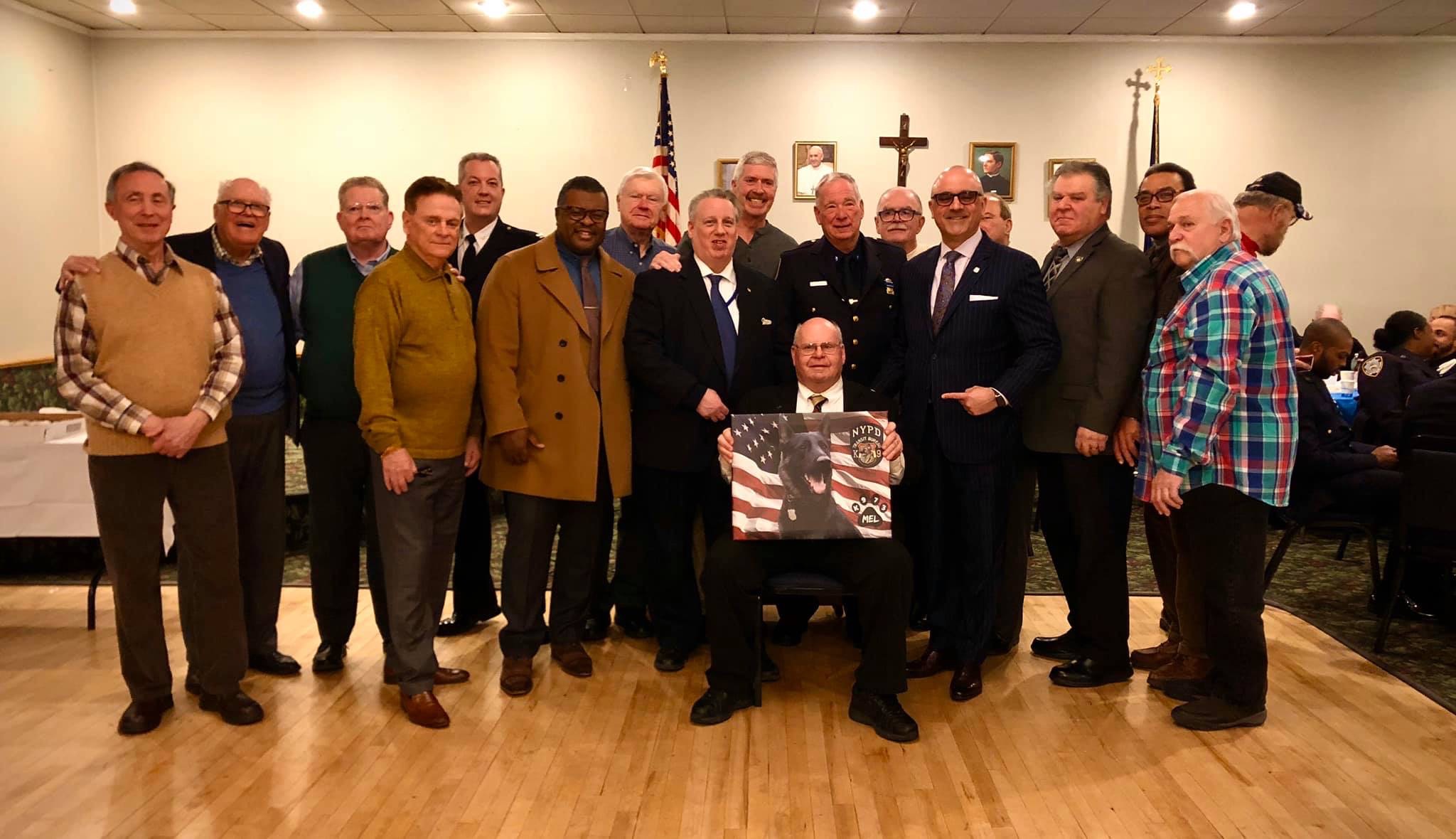 Hank and fellow officers & retirees at the luncheon with a photo of the K9 dog named "Mel" after Mike

February 9, 2020 TAX SAVINGS FOR FORMER MILITARY MEMBERS LIVING IN NEW JERSEY
For all those fellow Transit officers who live in NJ and were in the military, a new law went into effect in 2020.
Under a new law signed by Governor Phil Murphy, the Veteran Income Tax Exemption is doubling to $6,000 for Tax Year 2019. This exemption is in addition to the $1,000 personal exemption to which each taxpayer is entitled, and any additional exemption for which the veteran is eligible. For Tax Years 2017 and 2018, the exemption amount was $3,000.
Their website is www.st.nj.us/treasury/taxation/military/vetexemption.shtml

January 21, 2020 2020 METS - YANKEES GAME TICKETS NOW ON SALE
Tom Greer has accomplished another great event for the Retirees Association.
He has 200 tickets for the Mets-Yankees baseball game set for July 28th.

It is a 7:10 pm game at Citi-Field, Section 106, first base side field boxes at a cost of $118 per ticket. A picture of the group will be taken on the field before the game.

Last year's game was a complete sell-out so if you are interested, please send in your check as soon as possible.

If you live out of state and plan to be in NY at this time, you may want to consider going to the game with your fellow Transit retirees.
Checks will be made out to Thomas Greer and sent to him at
508 Harbor Rd
Cold Spring Harbor NY 11724.
516-419-6146. 631-902-8911.

November 11, 2019 REPORT OF NOVEMBER MEMBERSHIP MEETING
Our thanks to Recording secretary Bob Forrester and his able assistant (and wife) Fran for this report.
Minutes of NYCRTPOA November 7, 2019
Meeting called to order by President Mike Lanning at 7:15 pm. Mike led the membership in the Pledge of Allegiance.
Tony Lomanto reported that we lost seven members since the last meeting. A moment of silence was observed.
There will be a Defensive Driving Course at the FOP on Saturday, November 19, 2019 at a cost of $45.00. If interested call Joe McGarry to register.
Our annual Christmas Party will be held at Antun's in Queens Village on Wednesday, December 4th at 6:00 PM. The charge is $25 for paid members and $35 for all others.
Motion was made and carried to waive the 2nd nominations elections. No one present put their name in for a nomination. The Board will remain the same with one change. Deo Fasolino accepted the position of Executive Secretary as John Giangrasso is stepping down. We thanked John and gave him a well deserved round of applause.
Tommy Greer reported that he has 200 tickets available for the Yankees Game on July 28, 2020. The price is $118 per ticket. Please e-mail your request to him at hpb2270@optonline.net .
Tony Lomanto gave the financial report. Nine members still have not paid their dues for 2019. The next dues mailing will be their last if they do not send in the dues.
Dues notices for 2020 will be sent out in January. Donations will be accepted with the dues and we ask that you indicate if you want a challenge coin gift as our thanks. To update our files, please include your current e-mail address.
The Medicare Part 'B' that was incorrectly paid in April will have the balance in March 2020.
Tony Piazza gave an update on the VSF Bill. Two Senators - Sen's. Diane Savino and Andrew Gounardes - have said they will introduce the bills for us.
Our May meeting next year will be a luncheon held at Verdi's and a Brunch meeting will be held in October at the NYS FOP building.
Meeting ended at 8:15 pm.

November 1, 2019 INFORMATION AND REMEMBRANCES
Here are a few photos from the NYPD Memorial Mass for Transit Police held on October 23rd.
From Ret. Transit Chief Fox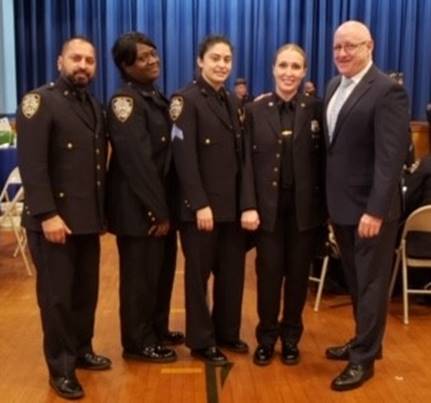 How we remember those who passed before us, in a great way defines us as individuals, families and a culture. So, it was my solemn pleasure to watch a true culture of caring in action this morning, at the NYPD Transit Bureau Memorial Mass. Family members of heroes who sacrificed their lives for us made today truly special. For example, on June 19, 1980, Joe Keegan was killed arresting a fair beater in Manhattan. In fact, his nephew Brendan Mallon and niece Courtney Mallon read the names of our fallen during the service this morning (see photo at alter). I wonder if Joe Keegan could've ever imagined that! But then again, that's what legacy and impact is all about-it manifests itself when we're not watching. Have a wonderful and purposeful day everyone, and thank you.
From Association Chaplain Rabbi Berkowitz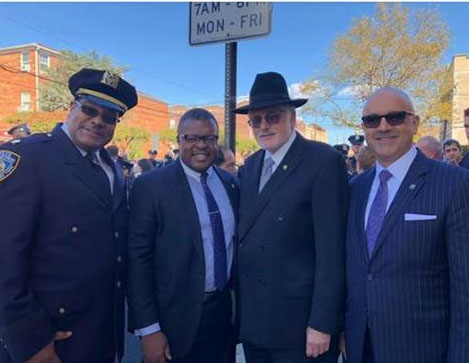 Thank you for your humbling comments. My success was due to the trust and confidence that the entire NYC Transit Police respected my every step and response on a day-to-day basis. As a follow-up, the rest of the MTA Agencies gave me the opportunity to extend this unique role to include them as well. As a testimony to the NYC Transit Police, the Office of the Chaplain is a division of the MTA Work Life Services. Truly a rare and blessed achievement.
Thank you again my entire NYC Transit Police family.

October 24, 2019 NEWS FROM SOUTH FLORIDA

NEWS FROM LOU HOLLANDER
What a surprise Lou Hollander got on Tuesday, when he walked out his kitchen door to the garage to get in his car.
Lou said: "Sitting right next to my wife's car was a baby alligator (maybe 3 ft.) My wife called Florida Wildlife and said they don't respond unless the gator is over 4 feet. They told her the gator is more afraid of us. It eventually ran out of the garage and my wife quickly closed the garage door before is Mama came looking for him.
Lou regrets the loss of several handbags, shoes, wallets and belts, and a good plate of fried alligator.
RECEIVED FROM IRV KEST
Just FYI, In Sept of 2018, I and others that served during the Korean War went to Washington, D.C. on an Honor Flight from Miami Airport. I was honored to have my Grandson from Orlando be my Guardian. It was mandatory for us to be in a wheelchair through out the stops and was wheeled to all the sights. While on the flight home we had mail call and I opened many cards from the family and found out later my Grandson notified everyone to send a card to me for my ride home. No one was more surprised than I. The Mayor of Miami Dade greeted me and so did the Gov. of Fl (who put a gold Fl. seal around my neck.) I was very proud to have been there to support my country. Take care of yourself and stay well. I turn 83 this coming January.
Thank you for your services, Irv, both in the Army and in Transit (D-34) and congratulations on the accolades so justly deserved. A very early Happy Birthday to you.
Irv's email is tpdblue2004@aol.com

October 7, 2019 REPORT OF OCTOBER MEMBERSHIP MEETING
Our thanks to Recording secretary Bob Forrester and his able assistant (and wife) Fran for this report.
Minutes of NYCRTPOA Meeting on Wednesday, October 2, 2019
Meeting called to order at 7:25 PM
President Lanning led the Pledge of Allegiance and thanked 1st VP Bob Valentino for setting up the buffet dinner catered by Verdi's of Westbury..
Treasurer Tony Lomanto reported that we lost six fellow Transit Police officers since our last meeting. A moment of silence was held for them, their families, those on the Sick List, and for our Armed Forces serving in harm's way.
Nominations were held for the Executive Board Officers for the next 2 years. All current Board Members were nominated with the exception of the Executive Secretary position. Deo Fasolino was nominated for that spot as John Giangrasso will be stepping down. We thank John for his services during his term in office. Nominations will again be held at the November meeting.
Tony Lomanto gave the Association's financial report. The Association is in good financial standing. There are still 18 members who have not sent in their dues for 2019 and will be removed from the membership roster. We regret having to do this as numerous communications sent have been unanswered. We reminded the membership of the upcoming Christmas and Holiday Party at Antuns on December 4th. The charge remains at $25 for members and $35 for non-members.
A motion was made and seconded that the Association will send $200 to Daniel Pantaleo who was recently fired by the NYPD.
1st VP Bob Valentino reported that Joe McGarry will be honored for his service in Viet Nam on Saturday, October 19th at the Levittown Town Hall, 201 Levittown Parkway at 11:30 AM. Member Mike Melchiona presented Joe a special lamp decorated with the Marine Corp emblem at the meeting.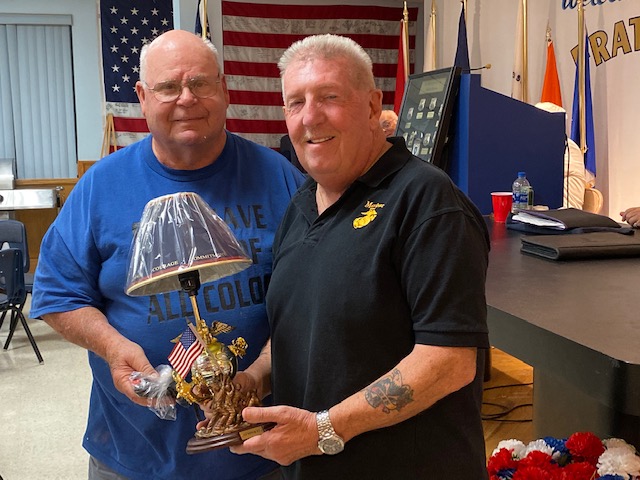 Bob also mentioned that member Emil Stucchio will be performing at Delmonico's Restaurant in Levittown on Friday, October 25th. Dinner at 7:00 PM, and the show will start at 8:00 PM. Price - $60.00 pp.
Legislative Director Tony Piazza gave a report on the status of the 2 bills currently in Albany. Bill #5835 and the COLA Bill. The VSF Bill comes up again on October 24th Nothing new, but we're keeping it on the table.
Joe McGarry reported that Lodge 317 will be conducting a Driver Training Course on Saturday, November 9th at 10:00 AM. The cost is $45 and you will receive a reduction in the cost of your auto insurance premium after completetion and receipt of certificate. You must call Joe first if you wish to attend. His number is 516-314-0155
Old Business – none.
New Business – none.
The next meeting is Wednesday, November 6, 2019.

October 1, 2019 ANOTHER SUCCESSFUL ROMEO & JULIET LUNCHEON
Vinnie Servedio accomplished another successful ROMEO & JULIET luncheon last week at Stella's Restuarant in Floral Park. Many of those attending have been at all the past luncheons and this time, a few new ones, notably Vinnie's son and his wife. One of Vinnie's contest was using a hula hoop. Needless to say, not many participated in fear of possibly needing a knee or hip replacement. His roulette wheel went off well with scratch off ticket prizes being rewarded. Here a some photos taken that day.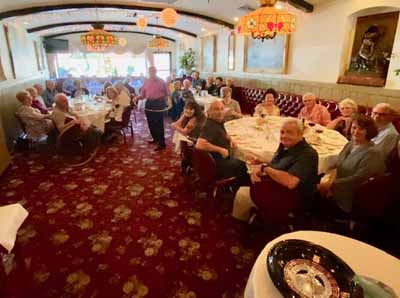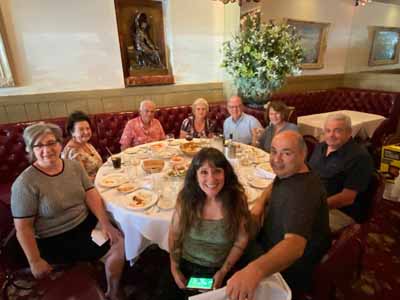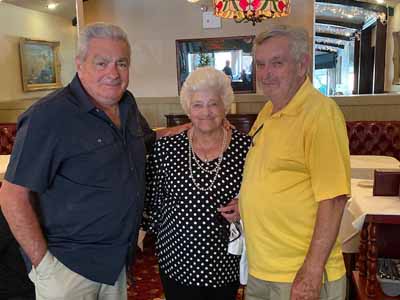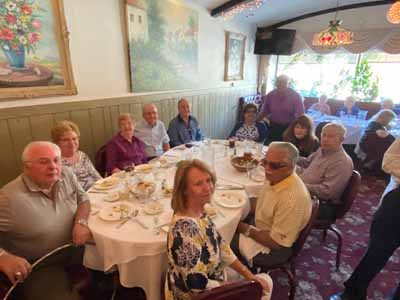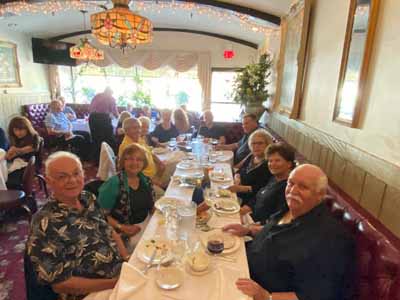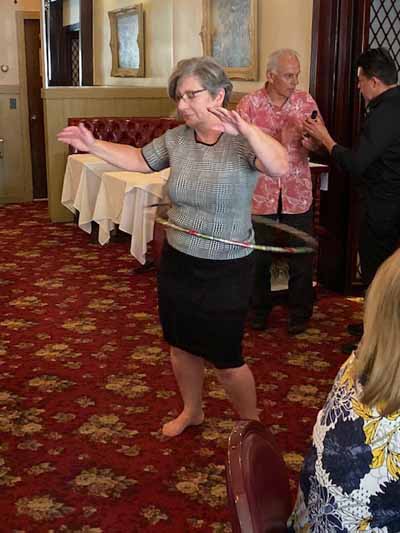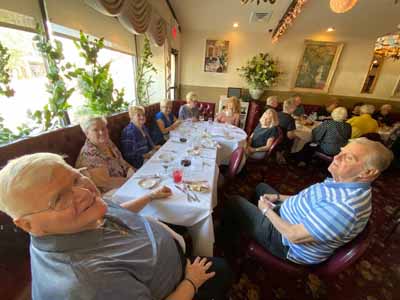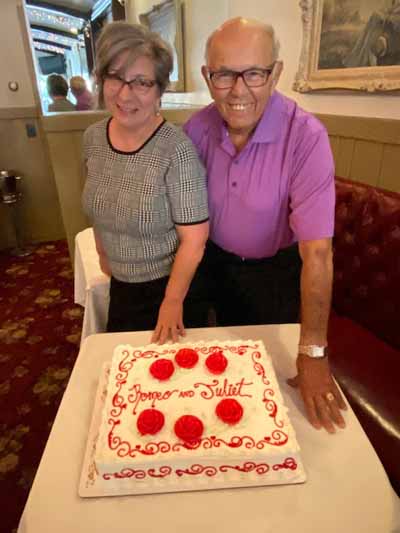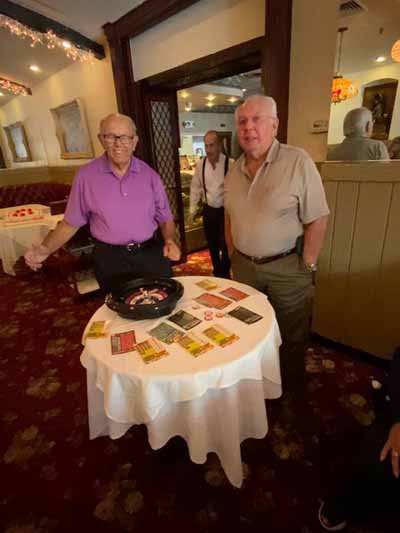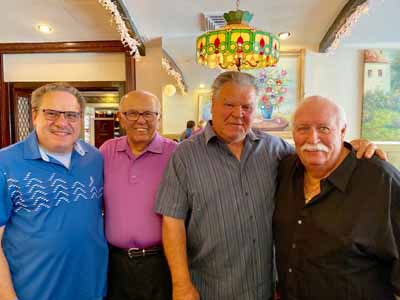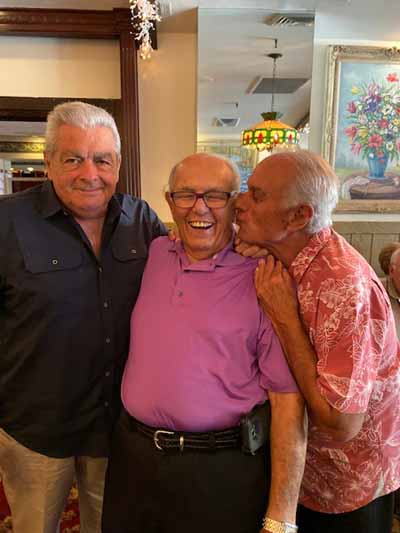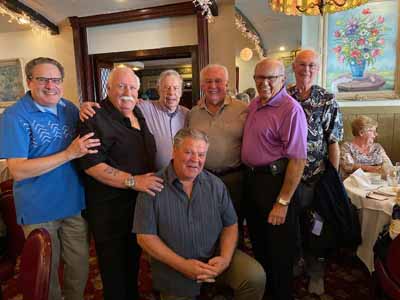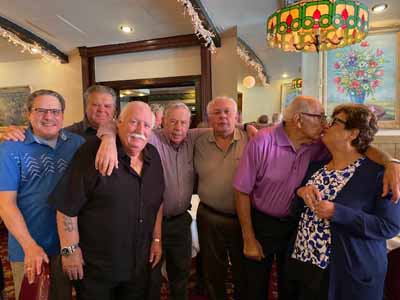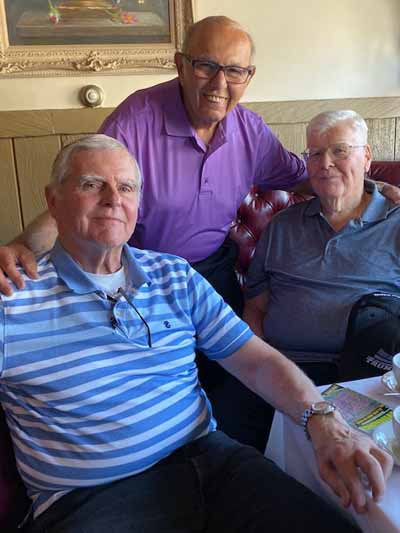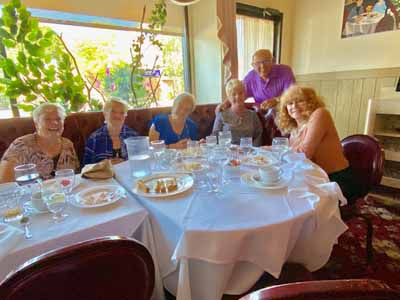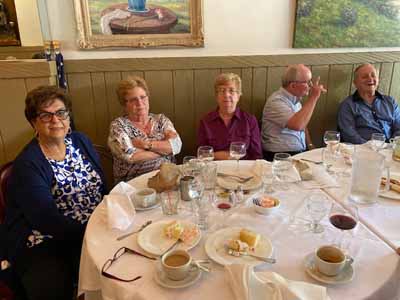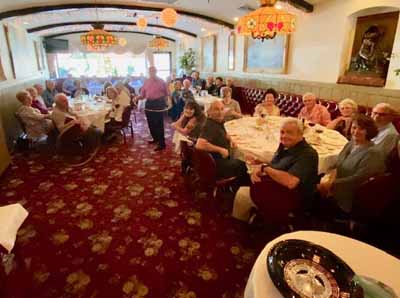 September 22, 2019 NEW LOCATION FOR OFFICE OF LABOR RELATIONS
Thanks to Alan Berkowitz for forwarding this update berky4@aol.com
The Office of Labor Relations (and Health Benefits) has moved to a new location. All the available information can be seen on our
KEEPING IN TOUCH page.

September 7, 2019 REPORT OF THE SEPTEMBER MEMBERSHIP MEETING

Minutes of the Retirees Association Meeting – September 4, 2019
Meeting at the FOP building was called to order by President Mike Lanning at 7:10 pm, followed by the Pledge of Allegiance and a moment of silence for departed members and victims of tragedies. Tony Lomanto reported that we lost 20 members since our last meeting and listed all the names. Our Chaplain's mother passed away. The Association sent an Association Memorial Booklet.
A fund is being established to help retired Capt. Vincent DeMarino and his family through this hard time as he is suffering from a brain tumor. A fundraiser is planned on September 14th from 3:30-6:30 PM at:
Craft Kitchen & Taphouse
44 Stauderman Ave.
Lynbrook, NY
516-341-0547
Treasurer Tony Lomanto gave a report on the financials. The association is doing well, especially from the many donations from our members. He also reported that we have two new members who recently joined. He also mentioned that the nominations for board officers will take place at the October and November meetings so if anyone is interested in running, please attend.
Executive Secretary John Giangrasso spoke about a fund started for Officer Pantaleo by retired NYPD PO Carl Varela and a group called "TOP COPS." Varela is an attorney who represents PBA members. It is called "ESQUIRE." The suggested donation is $10.13 and if you wish to donate, you can make out the check to ESQUIRE and mail it to:

ESQUIRE
PO Box 230186
Brooklyn NY 11223
Joe McGarry talked about the upcoming Pig Roast and Cigar Night to be held on September 14th, 2019 at the FOP Building. There will be pork, beef, salads, etc. and also cigars. The cost is $110.00 per person.
The New York Reunion will again be held at Antun's in Queens Village on Tuesday, November 19, 2019. Advance payment is $60.00 and $70.00 cash at the door.

Vinnie Servedio announced that the Romeo and Juliet Luncheon will be held at Stella's Restaurant on Wednesday, September 25th at 12:30 pm. There will be food, games, prizes and a great time.
Tony Piazza gave an update on the VSF bill and added "We're not giving up." There are only about 400 members left to benefit from this bill. He added that there are two important new bills: Military Vets Supplement and a COLA Bill.
Tom Greer reported that 180 members attended the Mets/Yankees Game this year. A great time was had by all. The next game will be either July 28 or 29, 2020.
There was no old business.
New Business - A Mass is being planned at St. Sebastian's Church in Woodside on February 28, 2020 to mark the 50th Anniversary of Patrolman Melchiona's death. Further details will be posted when they are finalized.
President Lanning spoke about the letter from the Association reflecting our stand on the recent firing of NYPD Officer Daniel Pantaleo by Commissioner O'Neill. Copies of that letter were placed on the tables.

The meeting ended at 8:15 PM following the 50/50 raffle drawing.
The next meeting will be held on Wednesday, October 2, at the FOP Building. We will have a buffet and there will be a food charge of $10 per person to help defray the cost.
Bob Forrester, Recording secretary (with able assistance from his wife, Fran)

August 27, 2019 ASSOCIATION'S RESPONSE TO PANTALEO FIRING
Below is the Association's response to the recent firing of Police Officer Daniel Pantaleo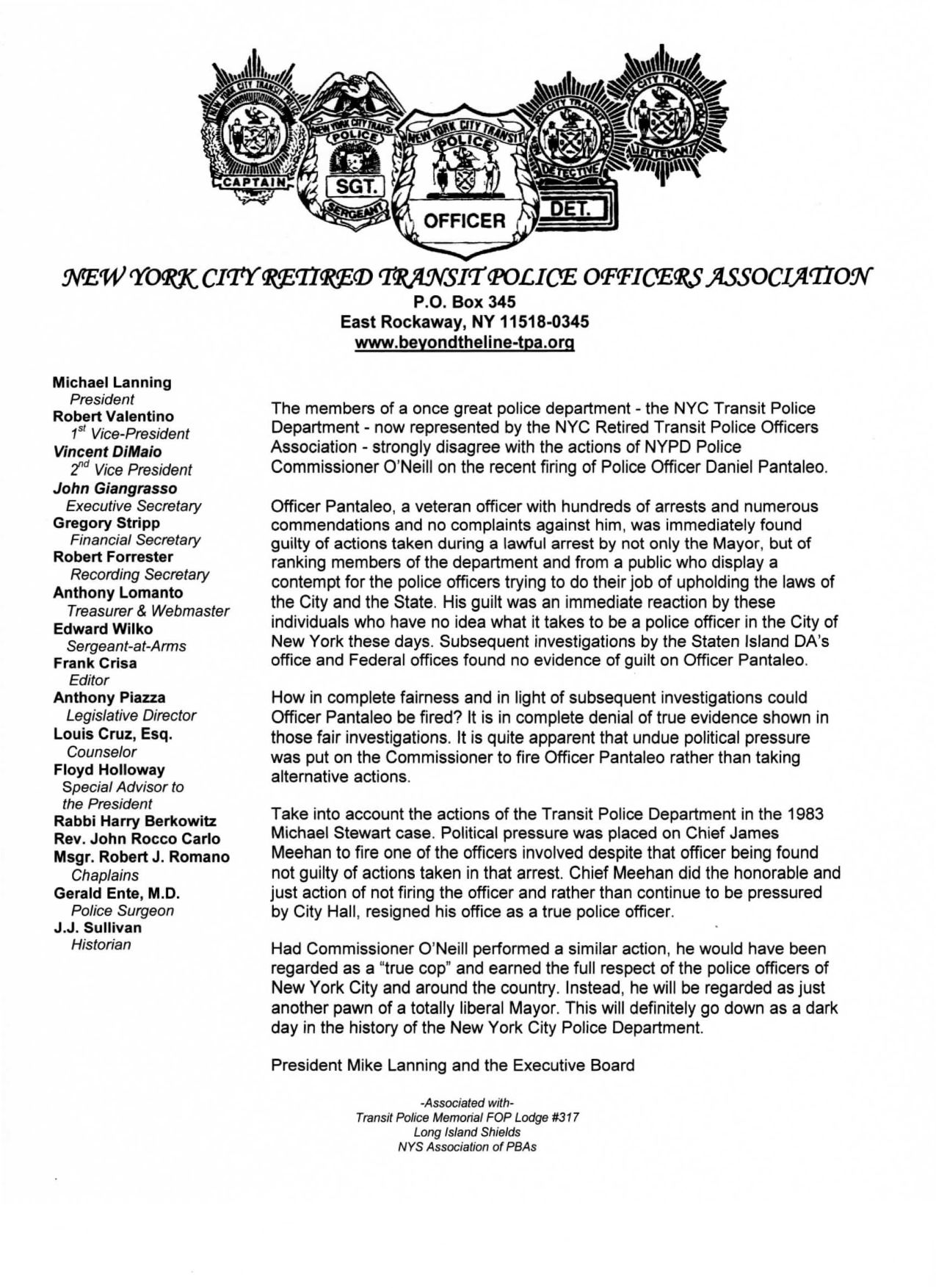 August 21, 2019 DISTURBING NEWS ON THE FIRING OF OFFICER PANTALEO
It has to go down as one of the saddest days in the history of the NY Police Department with the firing of Police Officer Daniel Pantaleo.
Public opinion, the Mayor, and the news media convicted Daniel as soon as the incident happened and that rhetoric continued to the day he was fired. Here was an officer doing his job...an officer with 13 years, 300 arrests and numerous commendations. Was it fair? We think not. Was it fueled by the threat of public disturbances by apparently cop hating individuals and the lack of support from above? We feel it was.
One of our members, Lifetime Member and former Transit PBA President Bill McKechnie, wrote about this disaster and is reproduced here.
I am sitting here reading everything I can get my hands on concerning the termination of PO Pantaleo, as well as watching everything I can on TV and social media, and I am sick. I am so angry that perhaps I should wait to calm down before writing this. However, I feel I know the issue and I am so outraged I want to speak out. First, let me address my brothers and sisters of the former NYC Transit Police Department.
When James O'Neill was appointed Commissioner of the NYPD, the first member of our department to achieve ever such appointment, I was proud, and I wrote the Commissioner saying so. I wanted so much for him to succeed so we could show the talent that we knew existed in our Department. I knew he was going to have a difficult time working for a mayor who is so far to the left, but I hoped he would be able to separate himself from that and lead the NYPD to bigger and better things. Today's events have proven me dead wrong and as I write this, I am truly saddened as to what I have just seen and heard.. What a disappointment! This so-called Commissioner is nothing more than a puppet for a left-wing Mayor. I say this because while he and the mayor say it was solely the commissioner's decision, I ask you to consider what the mayor has been saying on the Presidential campaign stump, "I promise you the Garner family will get justice." What does that statement mean? What message did it deliver to O'Neill? The Garner family already settled a 5.9 Million-dollar lawsuit, so the only justice left was the termination of PO Pantaleo. Under the Law, the only one who could legally deliver on this pledge was not the mayor but Commissioner O'Neill. So, I ask, you how can the mayor have been so confident that the so called "justice" for the Garner family, the termination of PO Pantaleo, be acted upon?
We in Transit lived through a somewhat similar experience in the Michael Stewart case in 1983, coincidentally the first year that O'Neill was on the job. For those who don't know this case, it was a case where an individual was arrested and who it took six cops to take under control, later died. We had six members in our Department indicted not once but twice. Eventually they were acquitted by a jury of their peers. However, that didn't satisfy Mayor Koch and he got the TA to hire a retired Federal Judge to review the case and, in an effort to make an administrative decision. fire the arresting officer.
Considering why he was hired, the decision this judge would reach was an obvious one. The police officer was wrong and should be terminated. What they failed to realize that, as opposed to the NYPD where they can take forever to make an administrative decision to terminate someone, our agency, by law, only had eighteen months to do so. Therefore, we challenged the decision of the judge and won. The Police officer was reinstated and we, the TPBA, sued the TA for over $400,000 to cover our cost in defending our members. More importantly, Chief Jim Meehan , Chief of the Dept. at the time, was directed to fire the PO refused and rather than doing so he resigned. Jim Meehan and I did not see eye to eye too often, but after that he gained my respect and, most importantly, he was able to look himself in the mirror after making his decision. Something I question if Commissioner O'Neill will be able to do.
The mayor in his press conference tonight kept saying that the decision to fire Pantaleo was based on an open, fair, and impartial hearing before a departmental tribunal. If you believe that, I have a bridge to sell you. He also condemned the Feds for failing to move forward on the case saying that the City would no longer wait for the Feds to make a decision delaying the City from taking action. Yeah sure! Wait for that to happen because if and when it does, much of what is used in a Departmental trial would not be able to be used by the Feds should they want to proceed. Secondly, he never mentioned in his public address that the Richmond County Prosecutor presented this case to a Grand Jury. Was that not a fair and impartial presentation of the fact presented to citizens of Staten Island? They found no reason to proceed. Now don't get me wrong; the DA is presenting evidence to see if he can bring a case that can prove something beyond a reasonable doubt, a departmental hearing only has to prove something by a preponderance of evidence. That, notwithstanding, was there a presentation of the fact to a fair and impartial group? I think not. The mayor must have just forgotten that, or maybe it did not fit his agenda to mention it.
I might add neither the Feds nor the Staten Island DA were mentioned by the Police Commissioner. When talking about the Trial Board case that led to the recommendation of termination, let's not forget that there were Departmental experts who testified that in their opinion Pantaleo did not use a prohibited choke hold. There was also medical evidence to contradict that a choke hold caused Eric Garner's death. But let's face it, they had a message from the mayor implicitly, if not explicitly, to find justification to fire this cop. Something else that I found rather ironic was that the trial board's recommendation went first to First Deputy Tucker who was to review and make a recommendation to the Commissioner. His recommendation was termination. Now a lot of people say what the hell were cops out there bothering someone selling "Loosies?" Well unless I am mistaken, the order to go out and stop the selling of "Loosies" came from the First Dep's office. Lastly, let's remember that Pantaleo was not acting alone. No charges have been brought against any other officers and I hope they never are, although I have read that the Garner family will not be happy until all those involved are terminated, so be prepared for page two of this bizarre story. Also, there were EMT's on the scene, of whom I have read, did not immediately administer first aide. Don't get me wrong... I am not looking to point a finger at anybody else, but what I am saying is there are a bunch of factors that I believe should mitigate for Pantaleo. Finally, in watching the Commissioner's press conference where at the end he says, "I realize cops will be angry. If I were a cop I would be angry." I don't know what the hell a statement like that means, but I will say this, if you think you are right, you don't apologize. The bottom-line commissioner... you never were a COP!


June 10, 2019 REPORT OF JUNE MEMBERSHIP MEETING

President Mike Lanning opened the meeting at 7:10 PM with the Pledge of Allegiance to the Flag.
Treasurer Tony Lomanto gave the Memoriam. We lost 4 fellow police officers since the last meeting. There was a moment of silence for prayers for the sick members, police who have been injured or killed on duty and for our Armed Services serving in harm's way.
.
There was a mention of this year being the 75th Anniversary of D-Day and how we are losing about 300 WW II Veterans each day.

Mike talked about Medicare Part B reimbursement and distributed forms to those who needed them. See the April 17th entry below for further explanation.

Feedback from the May 1st luncheon meeting at Verdi's was very positive.The possibility of having luncheon meetings in the future was discussed. Some of the meetings would possibly be held on a Sunday at the FOP building. By a show of hands it looked like the members would be open to that day.

Bob Valentino talked about the June 14th Bowling League Dinner Dance at Verdi's. At this time there are 230 people coming. He spoke highly of the musical group that will be performing.

Tony Piazza gave an update on his work regarding the VSF bill. It all comes down to dealing with the Democrats this time. No bill has yet to be introduced and it is coming close to the Legislature recess.

Joe McGarry talked about the FOP Convention in New Orleans in August and if anyone wishes to go as a delagte. There is a problem with room availabilty as the State had to givew up many rooms due to a small number of delegates going. The Lodge has a newly designed shirt available with the shileds of those killed in the line of duty and will include that of Bill Martin.
Tony gave a financial report of the Association and reported at this time we have 1,080 members of which 696 are Lifetime members. Dues have dropped and expenses are up. Postage is more expensive and the cost of the Newsletter runs about $5,000.00 per issue.
Our Editor, Frank Crisa, who puts the Newsletter together is in the hospital ICU. He has an infection following surgery. He offered thanks to all the members who prayed for him and sent good wishes. In an update, Frank is now back home and recovering.
The meeting concluded at 8:40 PM and the next meeting will be in September 4th at the FOP Bldg.
Respectfully submitted by Recording Secretary Bob Forrester with assistance from his wife, Fran.

May 8, 2019 BENEFICIAL INFORMATION FOR OUR MEMBERS
Our Chaplain, Rev. Dr. John Rocco Carlo cpc900@verizon.net , and Ret. Lt. Charles McCrea cemccray@aol.com sent us information that may be valuable to our members and their families. John is also the Chaplain for the Verrazano 10-13 Club (Ret. Det. Richie Commesso - President)
From the VZ 10-13 Club, information on Senior Discounts, locations where you can and cannot carry, notifications upon death of retired MOF, and others can be read HERE
From Charles McCrae, information regarding health care issues and dates available for the month of May. There are various dates for different examinations and seminars. It is a very useful piece of information. That calendar can be read HERE

May 5, 2019 REPORT OF MAY MEMBERSHIP MEETING
The first ever luncheon Association meeting was a tremendous success with many members who normally couldn't make the evening meetings because of driving at night probems, made this meeting.
Our thanks to Recording Secretary Bob Forrester for submitting the following report (with help from his lovely wife and Associate Member, Fran.)
Minutes of Meeting held at Verdi's on May 1, 2019
President Mike Lanning called the meeting to order at 1:50 pm.
Pledge of Allegiance by the assembly immediately followed.
Treasurer Tony Lomanto read the names of the departed since the last meeting, and asked for prayers for the sick members and family members and also all the police who are suffering and for our armed forces serving in harm's way.
Mike thanked First Vice President Bob Valentino for all he did to secure the venue for our luncheon meeting at Verdi's and for the upcoming Bowling Dinner-Dance on Friday, June 14, 2019 also at Verdi's. Tickets will be available at a cost of $100.00 per couple. In 2020 two of the luncheon meetings will be held at Verdi's.
Tony Lomanto gave a report on the balances in the Checking and Money Market Accounts and also thanked an anonymous member who donated $550.00 at the meeting.
Mike and Tony spoke of the recent Medicare Part 'B' reimbursement that was recently received. Because the City did not reimburse the full 2018 amount of $134 a month ($1608) to the retiree and eligible dependent for a total of $3216, certain forms had to be submitted to get the difference. Please read the article below posted on April 17th.
Information was received from Bob Ganley that the ID machine for Transit Police retirees is now working. You can e-mail or call for an appointment to get a new card. Check the information posted below on May 1st about the ID card machine up and running. You must make an appointment first. At this time, there is a backlog of around 100 applications, so please be patient with Officer Bazile.
Tony Piazza gave an update report on the VSF bill. It basically comes down to dealing with the Democratic side in Albany.
February 28, 2020 will mark the 50th Anniversary of the death of P.O. Michael Melchione. There will be a mass at St. Sebastian Church in Woodside where his funeral took place. More information will be posted as the date nears.
Tommy Greer did a great job with the Mets Tickets and we thank him for all his work. He has just one ticket left after selling 180 tickets. He also has available pins, shirts and even tie clips with the Association logo.
Pete Laddomada, representative from BJ's, presented the Association with a Basket of Cheer and informed us that the special discount membership offer of $25 for Association members has been extended to August 31st. Contact Tony at alomanto@optonline.net for the form.
Our next meeting will be on June 5th at the FOP Building in Hicksville.
Respectfully submitted,
Bob Forrester, Recording secretary
We have received several emails from members who attended this luncheon, thankiing us for setting up this type of meeting and commenting on the great food served.

May 1, 2019 TRANSIT ID CARD MACHINE UP AND RUNNING
We want to thank Bob Ganley for all his hard work in getting the ID card machine back in operation. Here are the necessary instructions for re-newing your Transit ID card.
For New York City Transit Police Department retirees who would like to renew their retiree identification card, please adhere to the following:

1. NYC Transit Police Department retirees should contact the NYPD's Transit Bureau Personnel Unit by telephone at: 718-694-3060 to set up an appointment to renew their ID card. Retirees will be asked to provide a copy of their driver's license and current retiree identification card. Copies may be sent by e-mail to Georges.Bazile@nypd.org by fax to 718-694-5809 or via US mail to NYPD Transit Bureau Personnel, 130 Livingston Street, 3rd floor, Brooklyn NY 11201. An application (completed by the Personnel Unit) will be created with the retirees name, address and phone number and other pertinent information.

2. Once a background check is completed, a member of the NYPD's Transit Bureau Personnel Unit will contact the retiree to set up an appointment for the retiree to come in, update their photo and receive a new identification card.
The unit is about 100+ cards behind, so please be patient with them.
March 28, 2019 NY ROMEO & JULIET LUNCHEON
Vinnie Servedio did another great job putting together this ROMEO & JULIET luncheon held on March 20th at Stella's Restaurant in Floral Park, Long Island. There was a big turnout of around 36 persons. Here are a few photos taken at the affair.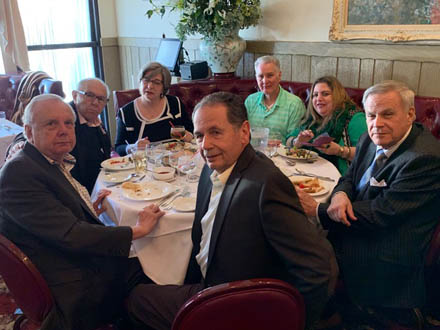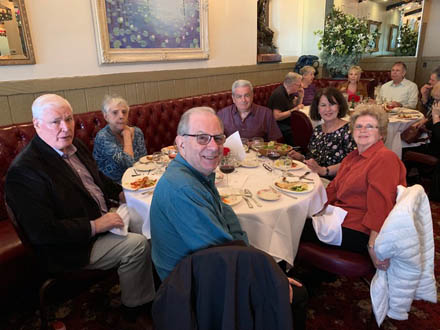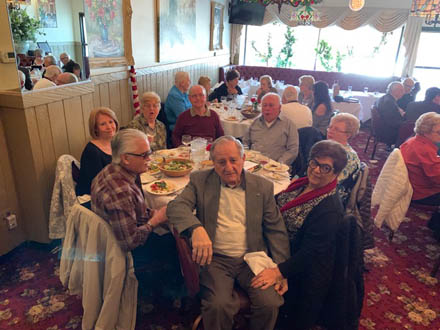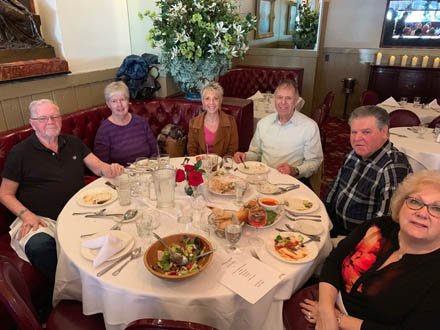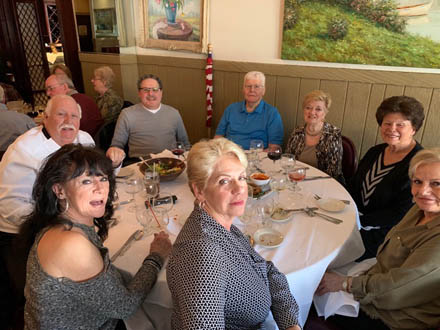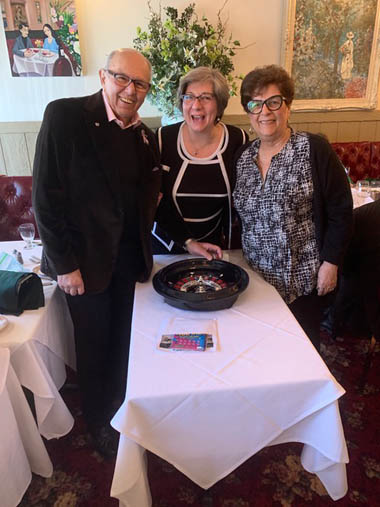 March 15, 2019 MARCH MEMBERSHIP MEETING REPORT
Minutes of the March Membership Meeting by the new Recording Secretary Bob Forrester
The meeting was called to order by President Mike Lanning who led the membership in the Pledge of Allegiance. Treasurer Tony Lomanto then read off the names of our fellow officers who passed away since the December meeting and asked for a moment of silence for them and their families, for those on the Sick List and for our fellow Police and Armed Forces serving in harm's way.
The meeting was put on hold and Mike introduced Ms. Danielle Becker, an attorney from the Ettinger Law Firm, which specializes in elder law, wills and trusts and emphasized the importance of items like a Power of Attorney. Ms. Becker gave a very interesting and informative discussion on the different types of trusts and wills and after her talk, she answered many questions from the members. If you are interested in this matter, please contact Ms. Becker at 1-800-500-2525 X124. The firm can be viewed at www.trustlaw.com We want to thank member John Kaim for recommending Ms. Becker to us as a guest speaker.
Our second speaker, Peter Laddomada, was from BJs Wholesale Club and gave a talk on membership savings for members of the Retirees Association. At this time, members can join or renew their current membership for only $25. Inner Circle and Perks Rewards are also offered at a discount. If you are interested, please call Peter at 718-637-7487 and mention you are a member. If you are a current BJ's member, you will need your membership number handy. Peter also donated a bottle of wine for the raffle.
1st VP Bob Valentino spoke of the May meeting luncheon to be held on May 1st at Verdi's Caterers. It will start at 1:30 PM and we look forward to a large attendance.
Tony Lomanto mentioned the NYS FOP Police Memorial Day will be Saturday, May 4th at 11:00 AM at the NYS FOP HQ in Hicksville. There will be over 70 names to be added to the wall and if you can, please attend and show the families of the officers they are not forgotten. The Retirees Association donated $200 to the FOP for the maintenance and expenses of the Wall.
2nd VP Vinny DiMaio spoke of the bill in Washington (HR1156 LEOSA Reform Act) to amend HR218 and allow changes in magazine capacity, and allowing carry in places like schools and Federal buildings and sites and other changes.
John Moakley spoke about the recent news that the NYS Department of Corrections and Community Supervision Parole Board had disconnected a computer link to their office where concerned family members would lodge their protest against the upcoming parole hearings for convicted cop killers. The link was established in 2012 and was used by many. Unbeknowst to the NYPD PBA, that link was disconnected in 2014 without any notice given. As a result, recent parole hearings that enabled cop killer to be set free never received the many protests. The PBA immediately sent a letter to the DOCSS chairwoman calling for the immediate reinstatement of the computer link.
The link is now directed to the PBA office on their website http://www.nycpba.org and click on the "Cop Killers" tab.
Tom Greer told the membership that all 125 tickets originally purchased for the Mets-Yankees game on July 2nd had been sold out. He purchased another 25 and if you are interested, please contact him. See the March 13 entry just below.
Legislative Director Tony Piazza spoke of the ongoing battle for the VSF. Now that the Democrats are in control in Albany, we must ask for their support on any bills to be presented on our behalf.
The 50/50 raffle was held and prizes awarded. Our thanks to John Reeves for supplying many of the shirts and other items and we wish him well in his current medical matter.
The meeting was then adjourned.

February 12, 2019 UPDATE ON REV. JOHN ROCCO CARLO
We received a letter from John that his telephone number on the back of the membership cards is no longer in use. If you have to contact John for any help, please call him on his cell at 347-613-0390

January 23, 2019 FORMER TRANSIT P.O. RICHARD DI GUGLIELMO RELEASED FROM PRISON
From Lou Hollander as received from Charlie Moran physedcop@yahoo.com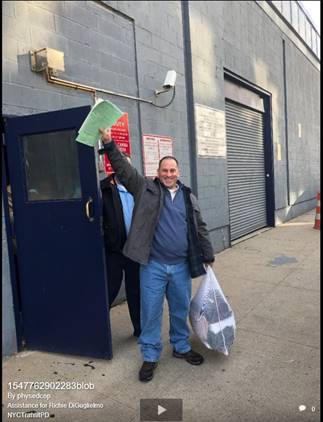 Above is the picture of Richie "D" exiting prison after serving 20 years on a politically motivated wrongful conviction. Many people in this group have expressed an interest in helping Richie successfully transition back into the outside world. Let's help our Transit Brother get back on his feet again. This could have been anyone whoever wore a shield and rode NB/SB. If you would like to help Richie, please make out a check to Richard DiGuglielmo and mail it to:
Richard DiGuglielmo
P.O. Box 1270
Yorktown Heights, NY 10598
100% of all funds collected will go to helping Rich
P.O. Box 1270
Yorktown Heights, NY 10598
100% of all funds collected will go to helping Richard

September 13, 2018 WORLD TRADE CENTER NOTICE OF PARTICIPATION HAS BEEN EXTENDED
From the NYPD PBA and SBA
The deadline for submissions for the World Trade Center Notice of Participation has been extended until September 11, 2022.
It was reported recently that the submission deadline was September 11, 2018, but that has changed.
Although the new deadline is four years away, we urge all active, retired and vested members to submit their Notice of Participation as soon as possible.
All relevant forms can be found on the NYPD Police Pension Fund website.
Please don't delay in taking immediate action on this most serious matter.

September 11, 2018 STREET NAMING IN MEMORY OF PTL. MICHAEL MELCHIONA UPDATE
From Lou Hollander, Sal Napolitano & Tony Lomanto
The Memorial Ceremony for Ptl. Mike Melchiona was a well attended event with Ret. P.O. Henry Melchiona and his family, NYPD Chief of the Department Terence Monahan, Admin. Chief Bob Ganley, TA President Andy Byford, District 1 CO Capt. O'Sullivan, former Transit Bureau Chief Joe Fox, PBA President Pat Lynch, a contingent of Officers from Suffolk County PD, and other NYPD uniformed ranks and the NYPD COlor Guard and Band contingents.
From Sal Napolitano::
Today was the long overdue recognition for Mike Melchiona who was killed in the line of duty on the 50th St & Broadway IRT subway station on February 28, 1970. A brass plaque will be mounted on that station in Mike's memory.

I was speaking with Mike's brother, Henry, this evening who told me that he and his family were overwhelmed by this tribute and the number of retirees, active police officers, Chiefs, former Transit Bureau Chief Joe Fox, and other ranking officers, PBA Pat Lynch, Deputy Commissioner Bob Ganley, and the MTA President were in attendance. Also, in attendance were Pipes & Drums. K-9 Units and police officers from various police departments from the NY & NJ area. There were many Suffolk County Police officers including Henry's son and nephew who are both detectives with the SCPD. After the dedication the PBA provided a luncheon in District 1 for all the attendees and guests. This was a very proud moment for the entire Melchiona family.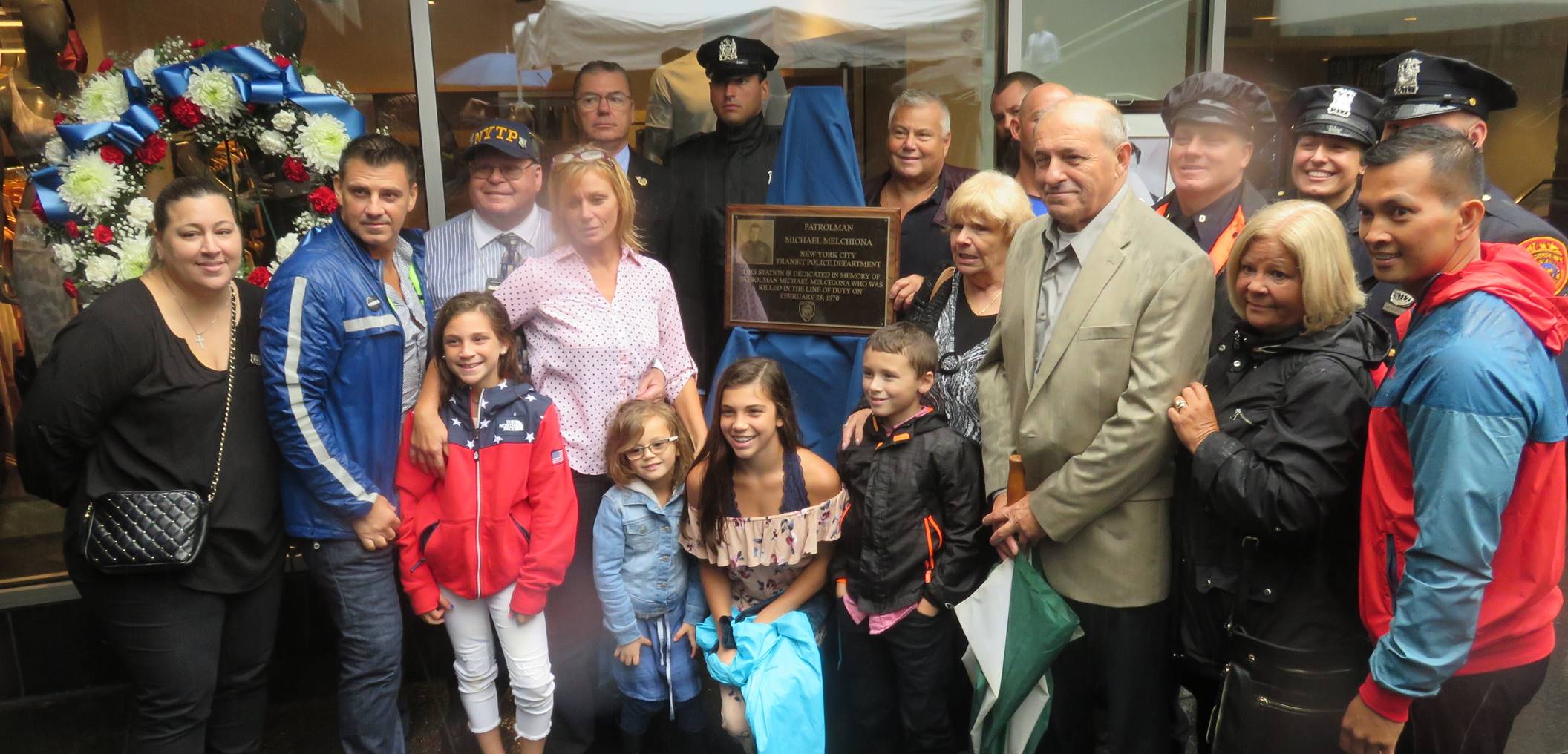 The Melchiona Family